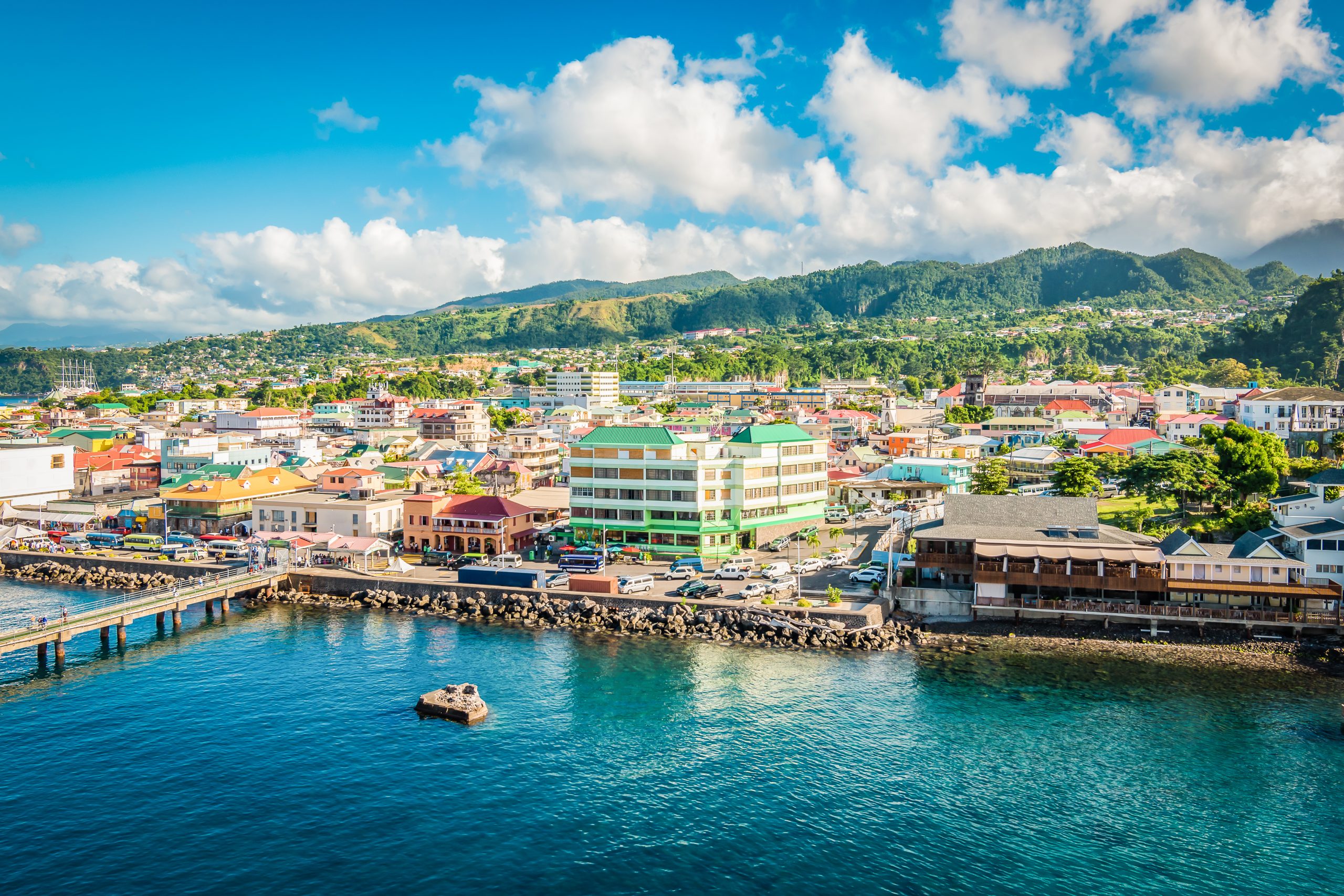 Roseau is the capital of Dominica. It is a colorful jumble of West Indian cottages, busy market stalls with a cool Rastafarian vibe and modern buildings and known as considered in cities of Dominica. Roseau's waterfront features a cruise ship dock and a seaside promenade, which is crowded with visitors during the busy winter season. In the center of town, near the dock, the Old Market sells fresh tropical fruit, vegetables, herbs, baskets, and coconut-shell souvenirs. A19th-century, St. Patrick's Catholic Cathedral, Gothic-Romanesque-style church, is one of the city's major landmarks.
Portsmouth is the second-largest city in Dominica of the capital and major cities of Dominica. You will get only 2,977 inhabitants here. It lies on Dominica's northwest on coast Indian River, in Saint John Parish. This city has its own seaport in Prince Rupert Bay. Portsmouth in 1760 was initially chosen as the capital of Dominica. The capital was moved to Roseau after malaria broke out there the same year where it remains. Over 1,000 students mainly from the United States and Canada, studies in Ross University School of Medicine, which is located near Portsmouth, in Picard. This school is a major economic resource for the local people.
Berekua known as Grand Bay or Berricoa, is one of the important cities in Dominica in the south of Dominica. It has a population of 2,288 as of 2010 and is the largest settlement in St. Patrick Parish. Berekua the cultural capital of Dominica and also called South City is a vibrant community located along the Atlantic Ocean coast in the south-east of Dominica. The economy is based mainly on agriculture with the production of a variety of root crops, bananas, other fruits and vegetables for the local and overseas markets. There are a small furniture manufacturing industry and many small shops and snacks.
Soufrière is situated in the island's southwest corner and considered in the main cities of Dominica. It is a sun-drenched village near Dominica's marine reserves. An 18th-century Catholic church built of volcanic stone. Sulphur Springs hot mineral baths and ruins of the L. Rose Lime Oil factory are here to explore. Dominica's southernmost tip and magnificent Scotts Head Peninsula separates the Caribbean from the Atlantic in dramatic fashion.
A list of cities in Dominica is incomplete without La Plaine. La Plaine in the region of Saint Patrick with its 1,332 inhabitants is a town in Dominica some 15 km east of Roseau, the country's capital city. These more prominent locations might be interesting for you, depending on the availability of means of transportation: Bridgetown, Fort-de-France, Basseterre, Soufriere, Roseau or Charlotte Amalie. Since you are here already, make sure to check out The Cross, Saint Sauveur, Rosalie, Riviere Critiques, Petite Soufriere and Delices.
Marigot is the largest village of Saint Andrew Parish in northeastern Dominica. The village has a population of 2,676 people and is home to a Fisheries Complex as well as the island's main airport. is home to a Fisheries Complex as well as the island's main airport.
Information credits for this page: Google, Wikipedia and Microsoft Bing. BlahFace does not vouch for the accuracy of the information presented.
Photographs may not be used without written permission.
Disclaimer: We may receive a commission for any products/services mentioned on this website.
Please support our Sponsors as it allows us to pay for the website and costs nothing to you.