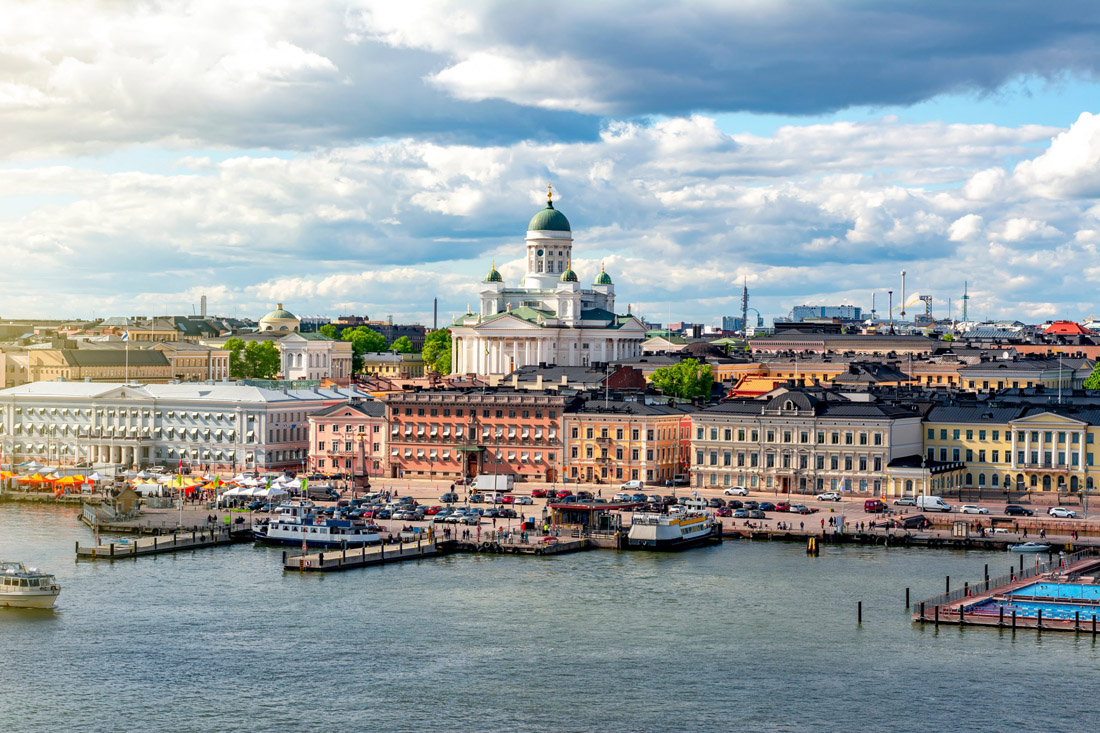 Lying on the Baltic, Helsinki is a delightful city to visit, with lots of lovely architecture on offer highlighting Finland's rich heritage. Whether it is modernism, art nouveau, or more traditional wooden buildings that you are after, everything seamlessly fits together. Helsinki's boulevards are lined with boutiques, shops and galleries that show off creative and innovative fashion, furniture and textile pieces – shopping here is a delight. On top of the cultural attractions, delicious, sustainable and healthy dining features heavily on restaurant menus, and there are some fantastic eateries here for foodies to explore.
Located in the far north of the country right next to the Arctic Circle, Rovaniemi is the capital of Lapland and the home of Santa Claus. As such, it is a popular tourist destination – though its functional and basic buildings are not the most attractive. This is because the city was almost completely destroyed in the Second World War. The lovely Arktikum museum offers an interesting look at local traditions and history, as well as the culture of the Sami people. While Rovaniemi itself is relatively uninspiring, its nearby attractions in Santa Claus Village and the stunning rural surroundings make it a great city to stop by on your way to exploring the wilds of the north and the Arctic Circle.
The former capital of Finland is lovely to spend time in. As the second-largest city in Finland, there are so many things to see and do here. Dating all the way back to the 13th Century, its stunning castle and old cathedral are just two of the highlights on offer. The ancient history contrasts beautifully with the youthful vibe. With a sizeable student population, there are lots of restaurants, bars and clubs, and a happening arts and music scene. In addition to the bustling streets, the Aurajoki River trundles beautifully through the city center. From here, you can easily explore the nearby Turku Archipelago. Many people arrive to Finland through Turku's busy port.
A wealthy city, Oulu is delightfully located on several islands which are connected by small bridges that cross the waterways. The Oulujoki River also runs through town on the way to the Gulf of Bothnia.
There is a lovely waterfront square full of shops, restaurants and food stalls for visitors to enjoy. In summer, it is packed, as Finns try and make the most of the sun. Its university specializes in technology, and the student population adds to the energetic feel, which manifests itself in a lively music and culture scene.
Lying just across the Gulf of Bothnia from Sweden, Vaasa has a large Swedish population – it was in fact named after Swedish royalty. Once ruled by the Russians, the Old Town burnt down in a fire, so most of the city is relatively modern. As there are three universities in Vaasa, there are lots of bars and restaurants to cater to thirsty students. There are some great museums on offer, as well as a lively arts and culture scene. A popular family destination, there many great outdoor activities for people to enjoy, and the nearby Kvarken Archipelago is marvelous to explore
The home of Nokia, Espoo is a commuter city that lies not far from Helsinki. As such, it is a great option for a day trip if you are looking to get out of the capital for a bit. With some great shopping centers, lovely flea markets and atmospheric cafes and bars, Espoo's main attraction is the brilliant Museum of Modern Art. Here, you can find a massive collection of artworks from the 20th Century onwards.
The sizeable student population breathes life into Espoo's streets and from here, you can visit the delightful Nuuksio National Park nearby.
Information credits for this page: Google, Wikipedia and Microsoft Bing. BlahFace does not vouch for the accuracy of the information presented.
Photographs may not be used without written permission.
Disclaimer: We may receive a commission for any products/services mentioned on this website.
Please support our Sponsors as it allows us to pay for the website and costs nothing to you.