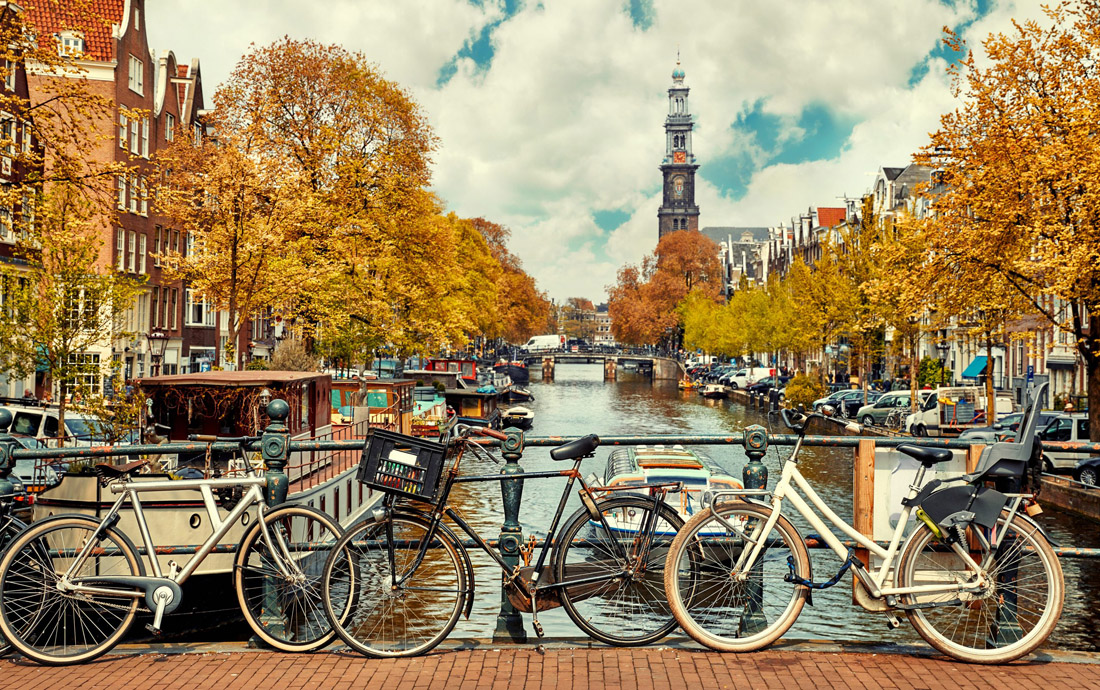 With the seat of government and the royal family residing within its confines, it seems slightly strange that The Hague is not the capital of the country. More appropriately, this large city has a stately air about it. Grand mansions and canal houses line leafy boulevards, while embassies and government buildings surround its fine parks. Due to the international bodies such as the UN and EU, the city is very multicultural. It is much more laid back than edgy Amsterdam, and has a number of fine dining options and interesting museums on offer. Lying on the North Sea, it is home to Scheveningen – a very popular seaside resort in the country.
Wandering along the cobbled streets that line the iconic canals, it is easy to see why attractive Amsterdam is one of the most popular tourist destinations in Europe. Beautiful gabled buildings and charming old bridges are everywhere you look. There are a number of world class museums on offer, such as the Rijksmuseum, Van Gogh Museum and Anne Frank House. Easily navigable on foot, one of the city´s main draws is simply wandering alongside its canals or taking a boat trip along their peaceful waters. With a youthful vibe and welcoming population, this liberal and cosmopolitan city has some atmospheric cafes and restaurants. It also has a lively nightlife in the form of clubs, bars and coffee shops – while the red-light district is never too far away.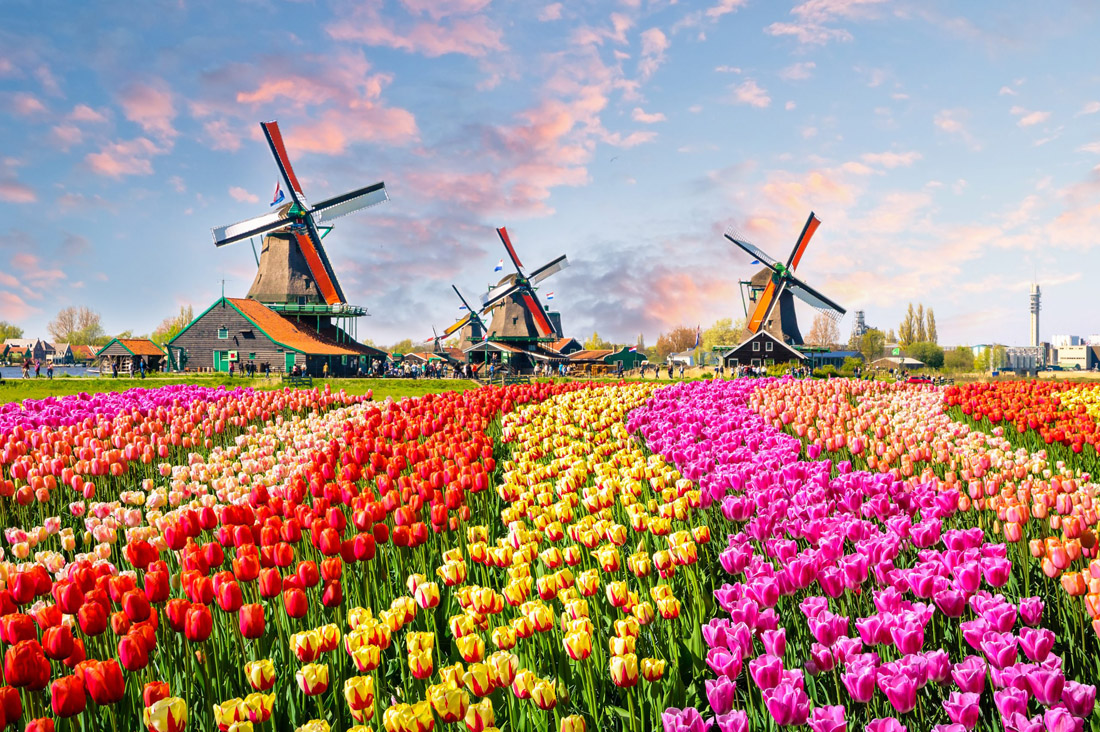 Lying on the banks of the Meuse River, Maastricht´s proximity to Belgium and Germany makes it a popular destination for citizens of both nations, as well as the Dutch themselves. A vibrant place, its streets thrum with life. Maastricht is home to a multilingual and multicultural population, as exemplified by its large student body hailing from all around Europe. As such, it is a mix of cultures and very different from other Dutch cities. This is demonstrated by its diverse and excellent culinary scene. With contemporary architecture lying next to beautiful old buildings, towering cathedrals and trendy boutiques, wandering along its bustling cobbled streets is exhilarating – the festive Carnival being the highlight of the year.
The second largest city in the Netherlands, Rotterdam is home to one of the biggest and busiest port on earth, with numerous waterways and canals crisscrossing the city. Having sustained considerable damage during the Second World War, the city is now characterized by futuristic and innovative architecture, although there is still an underlying grittiness to the place. Rotterdam is a lively and diverse place, with great museums, cultural attractions, and of course, fantastic dining and drinking options befitting of such a large metropolis.
A popular day trip destination, it is easy to see what makes Delft such an attractive option. With its lovely medieval center and picturesque canals crossed by brick bridges and lined with trees, the city is quaint and peaceful. Its most famous son, the painter Johannes Vermeer, is just one of many who has sung its praises over the ages. Famous for the distinctive blue and white tiles and ceramics that are produced here, visiting the Delftware factories is popular among tourists. But, despite its wealth of beautiful old buildings, it is the atmosphere rather than any particular attraction that makes it worth visiting.
One of the oldest cities in the country, Utrecht´s winding canals twist their way around its delightful medieval center, which has the arrestingly beautiful Domkerk cathedral towering above it. Although the sprawling suburbs do not make the best impression as you enter the city, its ugly tangled web of roads are soon forgotten once you get a feel for this lively place with its fun atmosphere. Thanks in part to its huge student population, Utrecht has loads of cheap and cheerful bars and cafes, as well as lots of great eating options. Although there are not really many sights to visit, it is the ambiance of Utrecht that makes it a pleasure to visit.
Information credits for this page: Google, Wikipedia and Microsoft Bing. BlahFace does not vouch for the accuracy of the information presented.
Photographs may not be used without written permission.
Disclaimer: We may receive a commission for any products/services mentioned on this website.
Please support our Sponsors as it allows us to pay for the website and costs nothing to you.