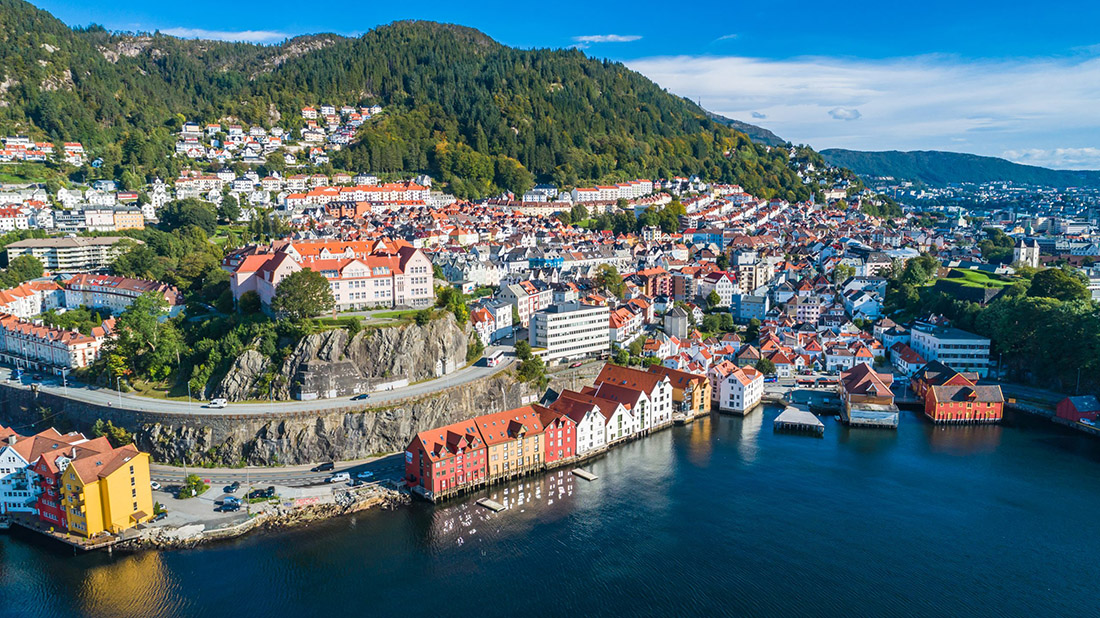 The capital of the country is full of amazing architectural designs that highlight the contemporary feel about the place, as do the educational museums, interesting galleries and evocative art pieces. Lying next to the sea, with mountains surrounding it, Oslo is one of the greenest cities in the world, thanks to its forward-thinking eco-friendly policies – this makes it lovely to walk around. In actual fact, residents can find themselves skiing, trekking the forests, or sailing along the Oslo fjord's waterways in no time at all.
A slightly bizarre place to visit, due to its eclectic mix of architectural styles, the city was destroyed by a fire in 1904. Its hasty reconstruction accounts for the mix of mock-Gothic, Art Nouveau and folkloric embellishments which you find when wandering its streets. Built on a few islands lying next to each other, the glittering harbor adds to Alesund´s attractiveness. From the nearby hills, there are some breathtaking panoramic views of the surrounding fjords and mountains. A lively city, Alesund has lots of magnificent restaurants and a thriving bar scene.

Formerly a part of the Haneseatic league and once the capital of Norway, Bergen sits in a spectacular location and visitors will love the plethora of sights on offer. With seven hills surrounding it, as well as seven fjords, the city´s brightly-colored buildings tumble down the slopes until they reach Bryggen – the fantastic wooden houses at the city center which were once used for trading and commerce. With some great art museums, a lively music scene and upbeat nightlife, Bergen has a nice atmosphere to it – although it unfortunately rains nearly every day of the year. Hiking in the surrounding mountains is glorious, and taking a boat ride amidst the nearby fjords offers up some stunning panoramas.
One of the most picturesque cities in the whole country, Trondheim is a pleasure to walk around, as forest-clad hills and glistening waterways surround its colorful buildings and sweet, old harbor. The historic capital of Norway has an amazing medieval cathedral. There is a sense of timelessness about its laid-back streets, as people leisurely go about their lives. There´s more than enough to keep you entertained for a few days, and you´ll soon discover its fine museums, great restaurants and atmospheric cafes. Alongside its rich cultural heritage, there is a contemporary arts and music scene, due to the large university campus. After Trondheim, head north to explore all the wild landscapes that northern Norway has to offer.
A dynamic place, Stavanger´s economy is booming due to the nearby oil fields. As such, the dreaded urban sprawl has taken over much of the outskirts of the city. Accompanying this has been an upsurge in prices, and it is now one of the most expensive places in the country. The center of Stavanger has managed to avoid being engulfed by modern developments and is full of old wooden buildings which are very pretty to walk around. The nearby waterfront is very lively during the summer and there are lots of great restaurants to choose from, as well as some lively nightlife. Many people stop by Stavanger on their way to the fantastic sights at Lysefjorden and Preikestolen.
Located in the far north of Norway, Tromso is set on an island amidst lovely blue fjords and spectacular snow-capped mountains. One of the northernmost places that you can visit in Europe, the city actually lies around 350-kilometres north of the Arctic Circle. As such, it is one of the better sites in Norway from which to view the Northern Lights. With loads of pubs on offer, a healthy cultural scene and lively nightlife, visiting Tromso can be great fun. There are lots of winter sports available and loads of scenic landscapes in which to pursue them. Tour organizers in the city can arrange trips to the Arctic if you´re after an adventure.
Information credits for this page: Google, Wikipedia and Microsoft Bing. BlahFace does not vouch for the accuracy of the information presented.
Photographs may not be used without written permission.
Disclaimer: We may receive a commission for any products/services mentioned on this website.
Please support our Sponsors as it allows us to pay for the website and costs nothing to you.