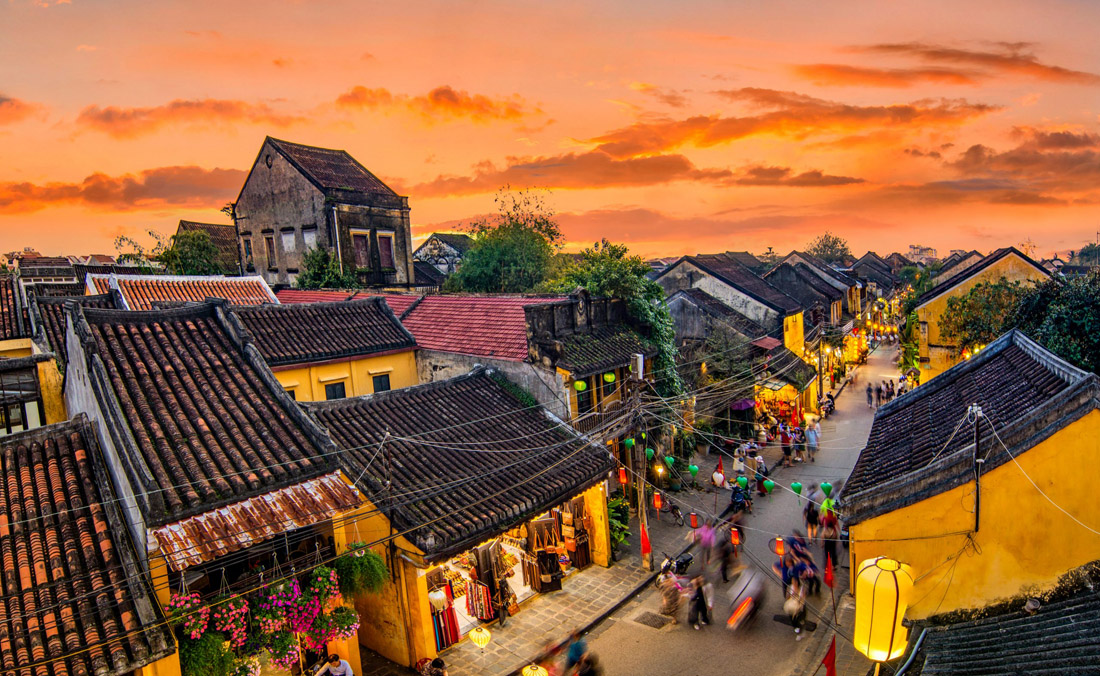 Hanoi one of Vietnam's busiest cities is full of hustle and bustle. It is over 1000 years of commerce, trade, and activity without signs of slowing down, as well as other legislative and government bodies. It also is the top destination to visit in Vietnam. Hanoi's trade opportunities are incredibly convenient, whether for domestic or foreign travellers, thanks to its strategic position and access to neighbouring countries. Moreover, almost all ASEAN capitals can be reached within 3 hours via flight making travelling easier. Besides, come to Hanoi you will impress by its insane traffic with thousand of motorbikes on road. It is quite chaotic for first-timer and some feel very hard when want to pass the road. Please do not worry because all drivers control their bikes very well and you just need to pass slowly and carefully look both ways. A walk around peaceful Hoan Kiem Lake is a welcome pedestrianized respite from crazy traffic! Hanoi is a fascinating city with old and partly crumblings, a town wrought with character. It is fun to explore Hanoi on foot with abundance of French colonial architectures, lakes, and tree-lined boulevards.
Hoi An has nearly 1,000 ancient structures, 844 architectural significances are on the Unesco list. For decades, astonishing cityscape has attracted travelers and musicians. Because of its protected status, Ancient Town has very stringent building rules in effect, ensuring it has maintained its typical wooden architecture of the 17th and 18th centuries, with original street plans, canals, bridges, and omnipresent yellow walls remaining unchanged. You will see the wonderful French colonial houses mingle between Japanese temples and Chinese wooden trader's houses. I am sure that you will not only impressive features are the convergence of cultures but also distinctive golden-yellow architectural styles. Additionally, most buildings are specially built both entries from street front for selling and back opens to River Thu Bon for transferring goods by boat. In these ever-changing times, having a place where life continues to remain the same is soothing. As this is one of the only areas that are safe from construction in Vietnam, ideally, this ancient city will forever preserve its rare, sunny charm.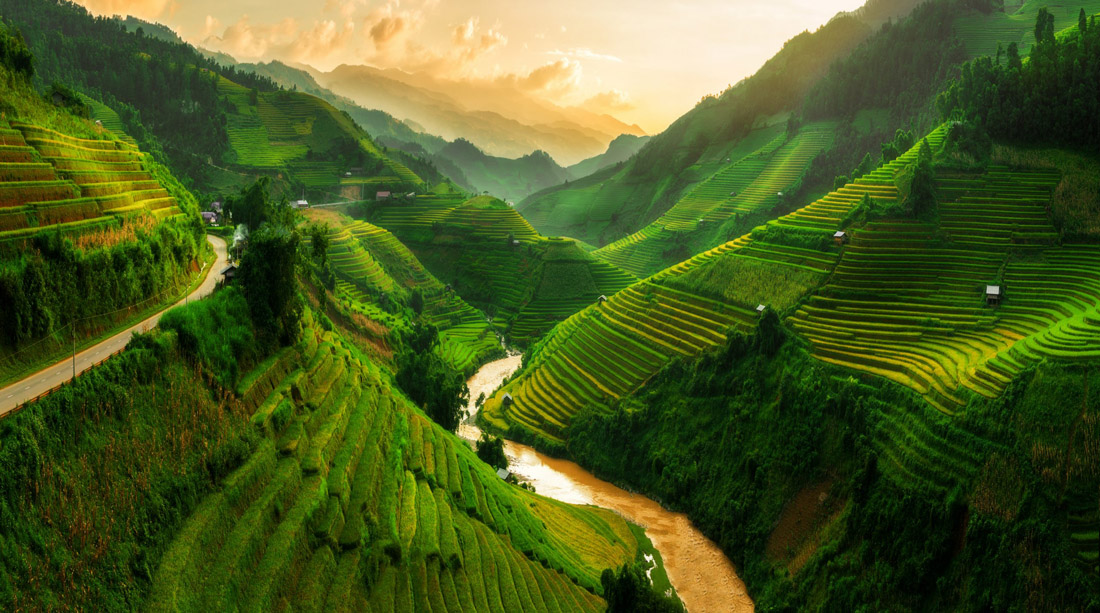 Da Nang is one of Vietnam's most popular tourist destinations attracts millions of domestic and overseas travelers every year. This stunning beach town is suitable for holidays with outstanding scenery that captivate hearts of visitors right from their first-sight. Sun World Ba Na Hills is the most lavish amusement and resort complex in Vietnam, part of Sun World entertainment brand chain and only about 20 km from the city center. It situated on a spectacular mountain, welcomes tourists with the world's longest cable car with mythical scenery. You also could not miss the French Town recreates an ancient and romantic mini France with iconic classical architecture such as squares, temples, cities, villages, and hotels. In addition, in "World's Greatest Places 2018," Golden Bridge, formally opened in June 2018, was honored by TIME magazine and recognized by Guardian as "The most impressive walking bridge in the world." Come to Da Nang, we also could not miss Tra Peninsula – also known as "green pearl", with many stunning natural beauties, where tourists take the perfect opportunity to conquer both "golden forest" and "sea silver." Thanks to its impressive architectural features, Da Nang Cathedral is one of Vietnam's most prominent Catholic churches. As well as bright stained-glass windows and a large bell tower, the cathedral has a signature pink facade and an iconic rooster-shaped weathervane at the apex.
Located on the banks of the wonderful Perfume River, Hue is one of the most charming towns in Vietnam. Hue used to be one of the country's principal royal capitals with a long and illustrious history. From the rambling ancient architecture to entertaining museums, Hue is best place for history lovers. Visit ancient tombs here to provide you a glimpse of Hue's old days. Tombs of Ancient Emperors are major attractions in Hue. If you are interested in ancient architecture and history, you should visit tombs built in honor of Hue's prominent emperors. Most tombs were built in the 19th and 20th centuries and carved to reveal tales of Buddhism stories. There 3 favorite Tombs you should not miss are Tu Duc, Minh Mang, and Khai Dinh.
Besides, Thien Mu Pagoda is another popular attraction in Hue. Temple overlooks to Perfume River and is famous for Buddha's gold and silver images.
Dalat is a cool and serene location for a great holiday, situated on Lang Biang highland with many lakes and golf courses. It is said that Dalat is "city of eternal spring" because of weather here cool and mist filling valleys all year round. Also known as a city of a thousand flowers and popular farms for growing temperate vegetables, especially strawberries. Vegetables and flowers provide for many big cities in Vietnam (especially beautiful hydrangeas). Travel to Da Lat you are not only can enjoy the amazing sceneries, relaxing in great weather but also can try many different types of fruit which is grown here. They are really fresh and cheap.
Nha Trang is considered one of 29 most scenic beaches in the world and a well-known destination for visitors. Every year, Nha Trang welcomes more than 6 million travelers around the world and increases year by year.
Nha Trang is not only famous for its beach also famous with thousand of islands in Nha Trang Bay. Hon Tre Island is one of the most famous ones which looks like a giant crocodile. Coming here you should not miss Bai Tru Beach where you can enjoy swimming or sunbathe with beautiful white sand beach and quiet. The island tours in Nha Trang are top things you must do when putting this destination in your pocket. Besides Hon Tre, there are several famous islands like Hon Tam, Hon Mun, Hon Mieu, Hon Lao, …. Beside swimming you can also enjoy many other interesting activities on islands like snorkeling, diving, surf, parasailing…
Information credits for this page: Google, Wikipedia and Microsoft Bing. BlahFace does not vouch for the accuracy of the information presented.
Photographs may not be used without written permission.
Disclaimer: We may receive a commission for any products/services mentioned on this website.
Please support our Sponsors as it allows us to pay for the website and costs nothing to you.