2024 Presidential Candidate
Marianne Williamson 2024 Presidential Candidate. We invite you to read about Marianne Williamson and explore what her campaign offers for the 2024 Election.  Explore her website, engage in her campaign, and cast your vote for the presidential candidate who aligns with your vision for a better America.
Of all the sinister consequences of our corporate-dominated order, none is more serious than the betrayal of our children.

Our country should not be run like a business; it should be like a family. https://t.co/QQi7ZrBGZ4

— Marianne Williamson (@marwilliamson) September 19, 2023
The UAW strike is not just about auto workers; it's about a long overdue repudiation by the American people of institutionalized corporate greed.

There's a reason why 75% of Americans support the strike; people on both Right and Left have begun to realize that the axis of… https://t.co/jOu0aSPXLm

— Marianne Williamson (@marwilliamson) September 19, 2023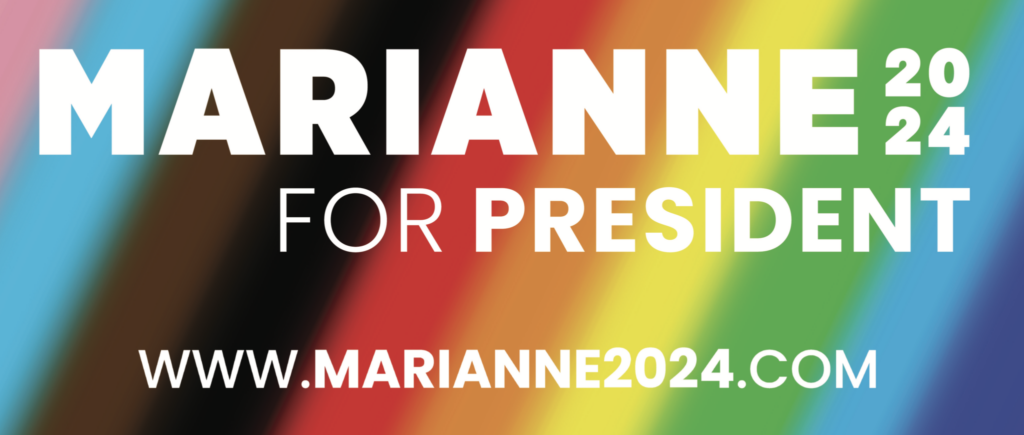 Marianne Williamson, an American author, spiritual leader, and political candidate, officially announced her candidacy for the 2024 presidential election on March 4, 2023.
Marianne Williamson first came to national prominence in the United States as an author and spiritual leader. Born on July 8, 1952, in Houston, Texas, she authored several books, including her debut "A Return to Love," which is considered her most influential work. The book reflects her interpretations of "A Course in Miracles," a self-study spiritual thought system. Throughout her career, she has been a guest on various television programs and has established herself as an influential speaker, particularly on spirituality and personal development.
Marianne Williamson became involved in politics and ran as an independent candidate for the United States House of Representatives in California's 33rd congressional district in 2014. Although she was endorsed by several celebrities, she ultimately finished fourth in the primary election. In 2019, she announced her candidacy for the Democratic nomination in the 2020 United States presidential election. During the campaign, Williamson advocated for a range of progressive policies, including reparations for slavery, universal healthcare, and action on climate change. However, her campaign didn't gain substantial traction, and she eventually dropped out in January 2020.
As a 2024 presidential candidate and as a public figure, she continues to be an advocate for social and political reform and remains active in various social movements. Her campaign will likely focus on social justice issues, spirituality, and progressive policies, based on her past engagements and advocacies.
Marianne Williamson's photograph credit source:  Public Domain, via Wikimedia Common
Unless other sources are listed, original content is provided by ChatGPT.  ChatGPT may produce inaccurate information about people, places, or facts.