Curious about politics in Cuba? This page may shed some light.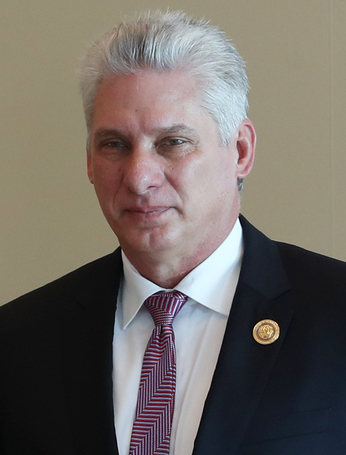 Miguel Díaz Canel
First Secretary of the Communist Party of Cuba
Incumbent
Assumed office
19 April 2021
Image credit
The Republic of Cuba is one of the few socialist countries following the Marxist–Leninist ideology. The Constitution of 1976, which defined Cuba as a socialist republic, was replaced by the Constitution of 1992, which is "guided by the ideas of José Martí and the political and social ideas of Marx, Engels and Lenin." The constitution describes the Communist Party of Cuba as the "leading force of society and of the state".
The First Secretary of the Communist Party of Cuba is the most senior position in the one-party state. The First Secretary leads the Politburo and the Secretariat, making the office holder the most powerful person in Cuban government. Members of both councils are elected by the National Assembly of People's Power. The President of Cuba, who is also elected by the Assembly, serves for five years and since the ratification of the 2019 Constitution, there is a limit of two consecutive five-year terms.
The headquarters of the Communist Party
The People's Supreme Court serves as Cuba's highest judicial branch of government. It is also the court of last resort for all appeals against the decisions of provincial courts.
Information credits for this page: Google, Wikipedia (Wikipedia text under CC BY-SA license) and Microsoft Bing. BlahFace does not vouch for the accuracy of the information presented.
Photographs may not be used without written permission.
Disclaimer: We may receive a commission for any products/services mentioned on this website.
Please support our Sponsors as it allows us to pay for the website and costs nothing to you.