Curious about politics in Switzerland? This page may shed some light.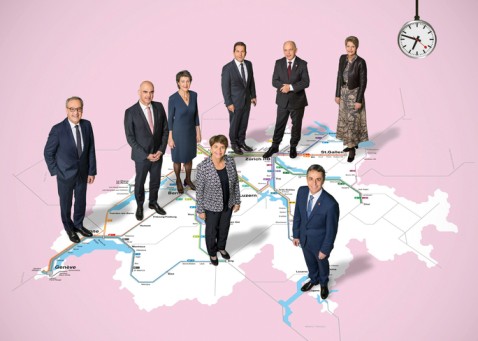 Federal Council
Incumbents
(from left to right)
Guy Parmelin
Alain Berset
Simonetta Sommaruga
Viola Amherd
(Walter Thurnherr)
Ueli Maurer
Ignazio Cassis
Karin Keller-Sutter
Image credit
Switzerland is a semi-direct democratic federal republic. Since 2011 the leading parties are from the right wing (Swiss People's Party, a right-wing nationalist party). The federal legislative power is vested in the two chambers of the Federal Assembly, the National Council and the Council of States. The Federal Council holds the executive power and is composed of seven power-sharing Federal Councillors elected by the Federal Assembly. The judicial branch is headed by the Federal Supreme Court of Switzerland, whose judges are elected by the Federal Assembly.
Switzerland has a tradition of direct democracy. For any change in the constitution, a referendum is mandatory (mandatory referendum); for any change in a law, a referendum can be requested (optional referendum). In addition, the people may present a constitutional popular initiative to introduce amendments to the federal constitution. The people also assume a role similar to the constitutional court, which does not exist, and thus act as the guardian of the rule of law.
Cantonal and municipal politics vary in the different cantons, which may have different systems.
Information credits for this page: Google, Wikipedia (Wikipedia text under CC BY-SA license) and Microsoft Bing. BlahFace does not vouch for the accuracy of the information presented.
Photographs may not be used without written permission.
Disclaimer: We may receive a commission for any products/services mentioned on this website.
Please support our Sponsors as it allows us to pay for the website and costs nothing to you.