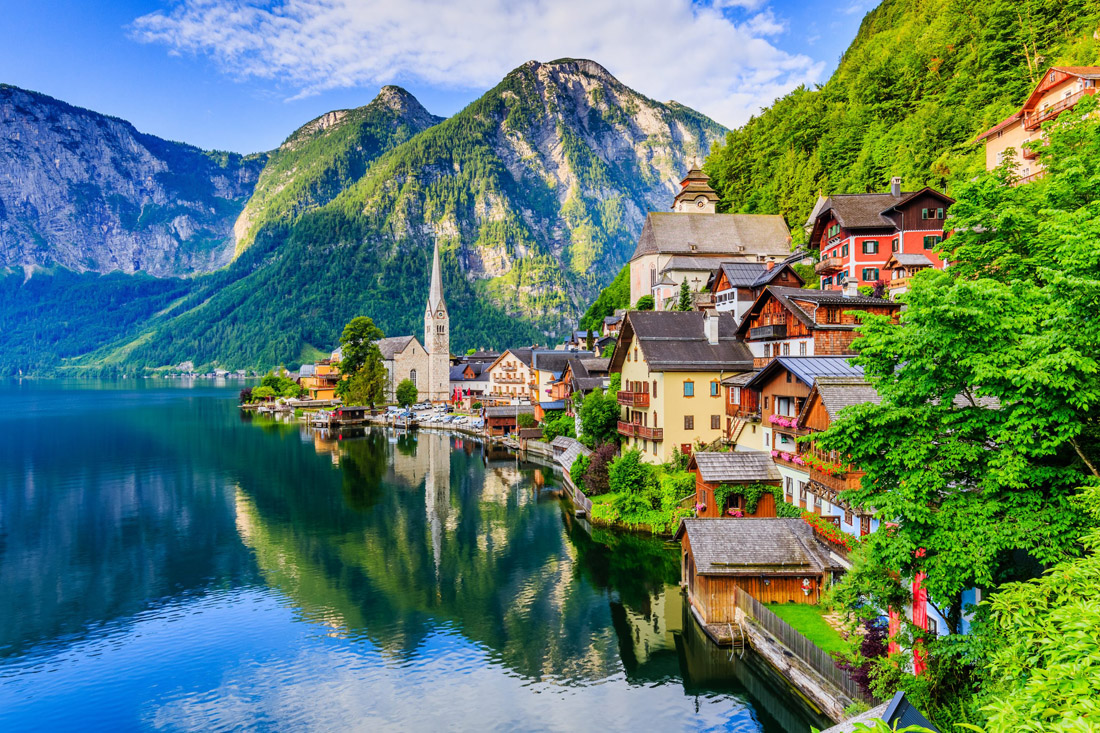 Vienna is Austria's largest city and also its capital, located in the center of the country and positioned on the banks of the Danube. This position on the major shipping course between Eastern and Western Europe is just one of the reasons that it quickly became the center of the Hapsburg empire and continued to grow and thrive. It is home to three magnificent palaces, the largest of which is the Imperial Hofburg Palace, which consists of 18 groups of buildings on 59 acres, with a total of 2,600 rooms and over a dozen courtyards. Vienna's Schloss Schönbrunn (Schönbrunn Palace) is another top attraction, known for the Imperial Apartments and the Victorian-era Palm House. Schloss Belvedere (Belvedere Palace) is actually home to two Baroque palaces, as well as a remarkable art collection in the Österreichische Galerie Belvedere.
The city of Salzburg straddles the River Salzach in northwestern Austria and is equally well-known for its beautiful historic architecture as it is for its proud musical heritage as the birthplace of composer Wolfgang Amadeus Mozart. Mozart's Birthplace and family home is open as a museum and contains a violin he used as a child, original compositions, and other artifacts. Salzburg's Festival Theaters (Festspielhäuser), consisting of Festspielhaus and Haus für Mozart, host classical music festivals and regular concerts throughout the year. It's Old Town (Altstadt Salzburg) is home to a variety of landmarks, including the 17th-century Residenzbrunnen fountain. You will also find the Salzburg Residenz, a 16th-century royal residence known for its Baroque and Neoclassical architecture.
Graz is Austria's second-largest city, becoming a major trade center after it was taken over by the Hapsburgs in the 12th century. Today, it holds the title of European Capital of Culture, commemorated by Murinsel, a steel sculpture that sits on the River Mur and serves as a recreational area and amphitheater. Graz is also proud to be the birthplace of actor Arnold Schwarzenegger, and there is a small museum dedicated to his career. The Old Town of Graz is a UNESCO World Heritage Site, home to stunning Baroque architectural elements, including stucco facades and intricate carvings. The Haus am Luegg is a particularly nice example, while the Landhaus and the Rathaus (Town Hall) represent the Renaissance style. A good example of Late Gothic architecture can be found at the Franziskanerkirche (Franciscan Church).
Innsbruck is well-known as a top Austrian ski town, home to a unique cable car system that brings skiers right from the center of town to the slopes of Nordkette, one of the area's most challenging ski areas. Innsbruck was put on the map when it hosted the 1964 Winter Olympics at the tram-accessible Patscherkofel ski area, now a favorite for its varied trails and excellent facilities. With six ski areas in all, there is plenty of terrain to choose from, with only the experts daring to take on the trails on the Stubai Glacier. The Nordkettenbahnen funicular can also be used to gain an aerial perspective of the town and see the surrounding mountains from a new angle.
Near the Slovenian border in southern Austria, Klagenfurt (also known as Klagenfurt am Wörthersee) is a small city that began as a modest market town. Alte Platz runs through the city's oldest section and is a beautiful pedestrian zone lined with Baroque buildings, including the Altes Rathaus (Old Town Hall) and Haus zur Goldenen Gans (Golden Goose). You can also find some of the city's nicest shops and cafés here, as well as the Benedictine Market, a lively outdoor street market. Past the Alte Platz, you can also find the Landhaus, a beautiful 16th-century building that features a two-story arcaded courtyard and twin onion-dome towers.
It's home to historic, cultural, and scenic attractions, as well as plenty of shopping. Set on the Danube River, it is an excellent starting point for boat excursions and for exploring the surrounding towns. One of the city's top historic attractions is Linz Schloss (Linz Castle), a fortification and royal residence that also houses the Schlossmuseum. This history museum contains a marvelous collection of artifacts from prehistoric through medieval times. The center of Linz's old town area is Hauptplatz, once the central market square. It is flanked by beautifully decorated Baroque buildings and is an excellent place for photography and people-watching.
Information credits for this page: Google, Wikipedia and Microsoft Bing. BlahFace does not vouch for the accuracy of the information presented.
Photographs may not be used without written permission.
Disclaimer: We may receive a commission for any products/services mentioned on this website.
Please support our Sponsors as it allows us to pay for the website and costs nothing to you.