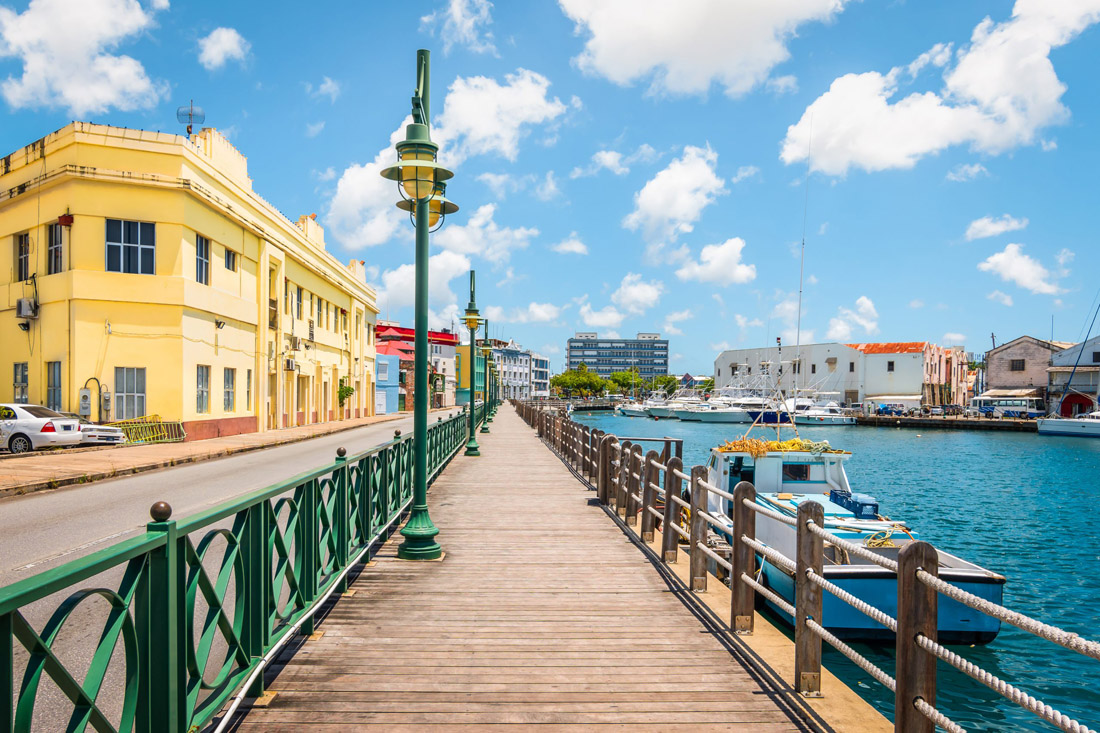 Bridgetown is the capital city and is the best cities in Barbados to visit. Here you will get an abundance of duty-free shops like selling fine jewelry, china, liquor, etc. you will also get wayside vendors, they selling just about everything. The Parliament Buildings are also situated in Bridgetown. The Barbados Parliament was established in 1639. Very few know that it is the third oldest Parliament in the entire Commonwealth. Bridgetown is the island's largest city and the center of it is business and culture. Its population is over 110,000 people and rich history
Speightstown is located along the north-west coast of Barbados. It is the islands major towns and boasts a long and fascinating history. Much of the character of Speightstown can be found in its architecture – historic monuments and buildings dating back to the early settlement of Barbados. Alongside these modern buildings reflecting a developing nation. its people are so friendly. The sidewalk vendors offer fresh fruits and vegetables. This city has a friendly sales staff in modern shops and restaurants.
This amazing city has known for its rich history. Holetown was the site of the first British landing in Barbados in 1625. This town was originally called Jamestown after King James. People said that the English seamen named the area Holetown because this river that empties into the sea here reminded them of the Limehouse Hole on the River Thames. Here you can be a part of many activities like taking a stroll along the boardwalk to enjoy fresh sea breezes, gorgeous tropical beaches, and amazing sunsets.
Oistins is a historic fishing town on the south coast of Barbados. It may be Barbados' smallest city, but what it lacks in size, it makes up for in character. Here you can buy freshly caught fish from the market and pick up some groceries from the supermarket, all in one time. Oistins is most famous for its nightly and weekend Friday night Fish Frys, where tourists and locals alike come together to eat delicious freshly cooked fish, served with macaroni pie, salad, chips, or rice and peas. Oistins has a big fishing community, with many fishing boats operating out of this complex. You can also feed the turtles at sunset from the jetty.
Last but not least is the infamous St. Lawrence Gap – a hive of activity both during the day and at night. Here you will find a lot of hotels, guesthouses, and apartments, which are all just a short stroll from Dover Beach. Swimming here is usually quite safe, and there are plenty of water sports operators and local vendors selling goods, so there's always something to do, see, or experience. You will also find a couple of convenience stores in The Gap for all your essential items. It is at night when The Gap comes alive as the streets are lined with bars and restaurants to keep you entertained until the small hours of the morning.
The Crane Residential Resort
The Crane Residential Resort has earned its reputation as a leading luxury resort in Barbados; however, what many people don't know is the Crane offers much more than merely luxurious accommodation. The Crane Village is fast becoming a popular destination point in Barbados. The uniquely designed Village is nestled amongst the beautifully landscaped Crane Resort and overlooks the Atlantic Ocean so you can get the full Crane experience in style. The Village offers a variety of shopping, dining, and entertainment options, and the best part is that you don't need even to be a guest of the Crane 
Information credits for this page: Google, Wikipedia and Microsoft Bing. BlahFace does not vouch for the accuracy of the information presented.
Photographs may not be used without written permission.
Disclaimer: We may receive a commission for any products/services mentioned on this website.
Please support our Sponsors as it allows us to pay for the website and costs nothing to you.