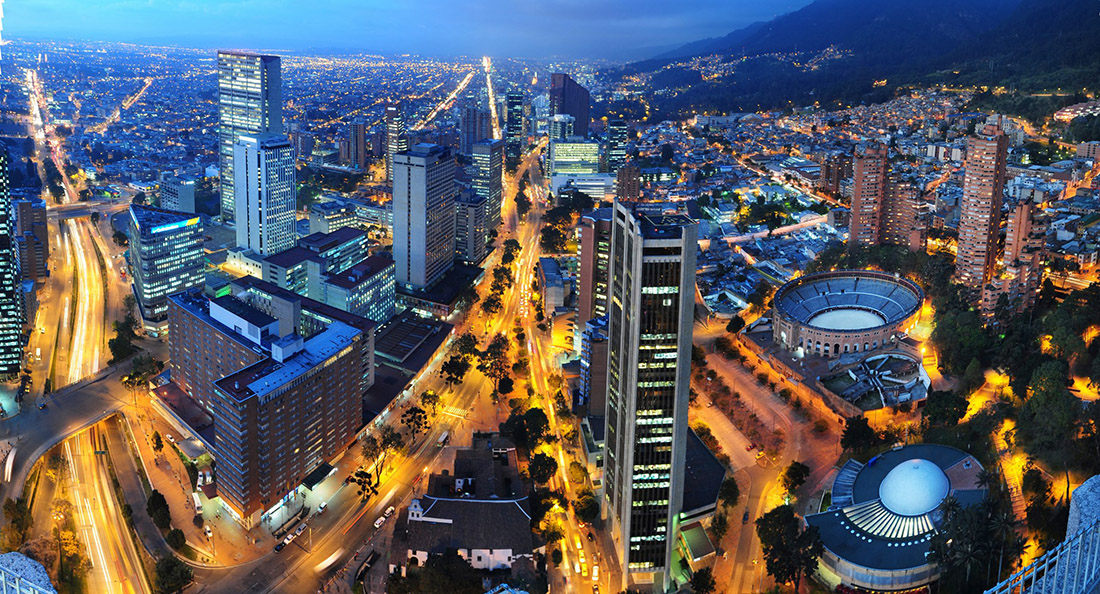 The lively capital of the country lies on a plateau amidst the Andes at an impressive height of 2600-metres, and all visitors to Colombia pass through Bogota at some point. While there is a lot of poverty and crime in the city, as well as packed and rather claustrophobic parts to it, the energy about the place and the wealth of attractions mean that most tourists come away with a positive impression. The historic center of La Candelaria is full of lovely colonial buildings; old churches and convents dot the cobbled streets. Some great museums, restaurants and bars are scattered about, and the magnificent Cerro de Monserrate looks out over everything
Lying on the Caribbean coast of Colombia, Cartagena is full of life and color and dripping with history. The stunning Old City is magnificent to behold as you wander around, with its old stone ramparts enclosing dazzling colonial buildings and tiny, narrow streets. Horse-drawn carriages trundle past huge churches and mansions, and its lively, leafy plazas are lovely to hang out in, with a fantastic range of restaurants and bars on offer. One of the best preserved colonial cities in Latin America – and certainly one of the most picturesque – Cartagena's raucous nightlife and fine dining scene are yet more reasons to visit.
Often overlooked in comparison with some of the other fantastic cities Colombia has on offer, Cali has more than enough about it to appeal to tourists – its pounding nightlife is just one reason to visit. Considered the capital of Salsa, going out here is a fun and wild affair and is not to be missed. Away from the party scene, Cali's great restaurants and rich, Afro-Columbian cultural heritage makes it a captivating place to visit. In addition to this, there are lots of old churches and some good museums too. With lots of natural wonders nearby, you can use Cali as a base from which to explore the surrounding region – make sure to check out a football match before you leave!
Although it may come second to Cartagena in terms of the stunning colonial features, Popayan is well worth a visit in its own right. The breathtaking mountains overlooking the city's picturesque streets only add to its scenic charm. Nicknamed 'the White City' due to its dazzling facades, its old buildings that comprise delightful churches, mansions and monasteries were built during the time when the city lay on an important trade route – the architecture on show is sumptuous.
The fourth-largest city in the country, Barranquilla is renowned for its fantastic Carnival, when the streets are inundated with locals and visitors alike who come to enjoy the sounds, colors and vibrant festivities of the carnival. Away from carnival time, there are some great restaurants and bars to check out and a few good museums. A bustling port town lying on the Caribbean next to the mangroves of the Magdalena River, Barranquilla is often overlooked in favor of other cities along the coast – though it has some great nightlife spots and friendly, welcoming people.
Lying closer to Nicaragua than Colombia, this idyllic island's dreamy, palm-tree-lined beaches and pristine waters make it a favorite with Colombians looking to get away for the weekend. While San Andres Town is not the prettiest place, due to its hectic downtown, the waterside promenade is pleasant to wander along and the tax-free shops and party scene certainly help to attract visitors. The main draws, however, are the beautiful beaches lining the island and the surroundings offshore cays, and there is some fantastic snorkeling and diving on offer.
Information credits for this page: Google, Wikipedia and Microsoft Bing. BlahFace does not vouch for the accuracy of the information presented.
Photographs may not be used without written permission.
Disclaimer: We may receive a commission for any products/services mentioned on this website.
Please support our Sponsors as it allows us to pay for the website and costs nothing to you.