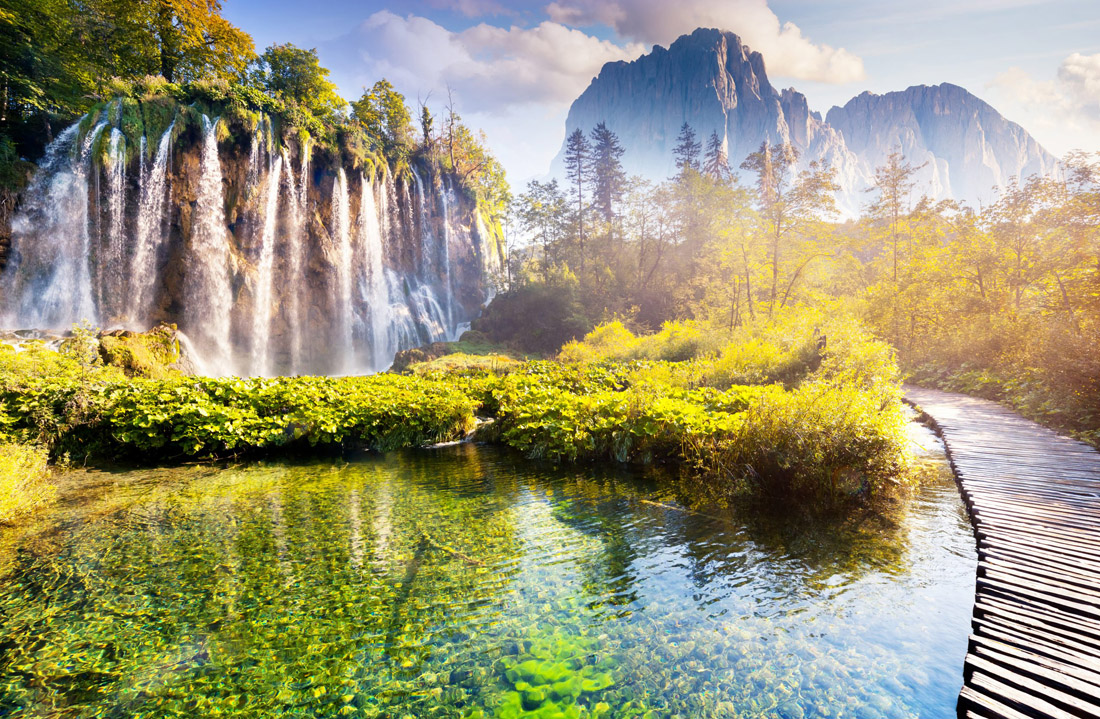 This quirky capital city is a happening place thanks in large part to its vibrant cultural and arts scene that permeates everything. With museums, galleries, theaters and more, as well as a lively music scene and nightlife; Zagreb is certainly a fun city to spend some time. Although its Austro-Hungarian buildings contrast slightly with its Mediterranean feel, the residents of the city don't seem to mind and they spend most of their time outdoors among the mountains and lakes that lie so enticingly near to Zagreb.
Often described as 'the Pearl of the Adriatic', Dubrovnik is an absolutely gorgeous city to visit in Croatia. Lying at the foot of Mount Srd which towers above it, Dubrovnik's stunning setting makes for fantastic viewing as its distinctive walls surrounding the picturesque old town jut out into the beautiful blue waters around it. Here you are greeted by a mishmash of ancient stone buildings, tightly knitted together with enticing narrow alleys running between them. Small bars and restaurants dot the place, hidden away among its wealth of historical sites.


A fantastic place to visit, Split is the second largest city in Croatia and has charm and elegance in abundance. Lying on the Adriatic coast, the palm tree lined white waterfront is marvelous to walk along and the historic center lying just behind it is mesmerizing for all the ancient sights that it contains. Originally the palace of Roman Emperor Diocletian, the city slowly grew from these auspicious beginnings into the Split we know today although the remains of Diocletian's Palace itself are still the undoubted highlight. A lively place to spend some time, a plethora of nice restaurants and bars dot the old alleys and it is this lived in feel that makes Split so compelling to visit. It's not just a tourist site; it's a home and a life to many Croatians.
Located on a small peninsula, this lively city is a lovely mix of old and new and although it's lacks the museum-like quality of some other Adriatic cities; it certainly has its charms. With Roman ruins, thirty-four old churches and a plethora of historic buildings to be found in the old town, wandering around its center is a peaceful endeavor.
The third largest city in the country, Rijeka contains Croatia's most important seaport and mixes the grand with the grimy. While the inevitable urban sprawl has accompanied its development, the old parts of the city are nice to explore with Austro-Hungarian architectural styles dominating the center.
The 'City on Four Rivers' as Karlovac is known in Croatia is an interesting and unique place to visit, seldom frequented by tourists. In actual fact, only three rivers course through the city, with one other passing nearby. Flying under the radar, the historic city center is shaped and defined by its distinctive fortifications.
Information credits for this page: Google, Wikipedia and Microsoft Bing. BlahFace does not vouch for the accuracy of the information presented.
Photographs may not be used without written permission.
Disclaimer: We may receive a commission for any products/services mentioned on this website.
Please support our Sponsors as it allows us to pay for the website and costs nothing to you.