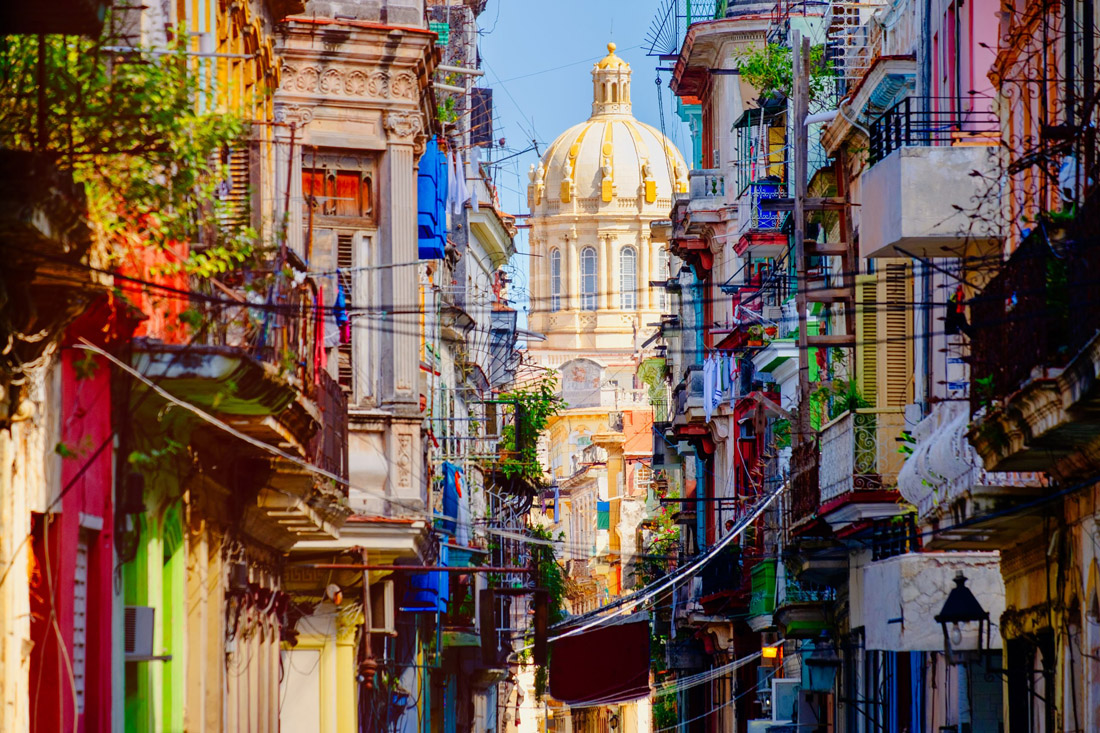 A UNESCO World Heritage site, Habana Vieja or Old Havana is a well-preserved slice of Cuban history. Strolling around the cobbled streets and gazing up at the grand Baroque and neoclassical buildings, it's easy to imagine what life in Cuba was like 200 years ago. Extensive renovations are now breathing new life into the historic buildings. Major attractions here include the Plaza de la Catedral, home to the Cuban Baroque Catedral de San Cristobal; the legendary restaurant and Hemingway hangout, Bodeguita del Medio; and the military fortress, Castillo de la Real Fuerza.
One of the highlights of eastern Cuba is beautiful Baracoa, the oldest city in the country. It was founded in 1511 in the province of Guantanamo, and construction began on the first church here around that time. Cut off from much of the outside world until the 1960s, when the La Farola highway was built, the city still has a remote feel. Today, visitors come here for the charming colonial architecture and lush countryside, where waterfalls and pretty beaches provide a cool counterpoint to the steamy jungle. The flat-topped peak of El Yunque presides over all this tropical beauty, beckoning hikers to take the guided ascent to its 589-meter summit. The hillside is a UNESCO Biosphere Reserve where rare birds and plants thrive.
Perhaps the most touristic destination in Cuba, Trinidad is unmissable. It is a gorgeous and perfectly kept colonial city and a UNESCO World Heritage Site. Cars are not allowed in the center, so it is nice to walk around the various painters studios, artesian shops, and markets. Trinidad is packed with museums, the most interesting of which is the Museo Histrico Municipal, from whose tower a wonderful view of the city can be admired. Restaurants here are located in old colonial homes, and while you wait to be seated, you admire the property's collection of antique furniture. Waking on the cobbled streets of Trinidad, admiring its colonial buildings, and taking pictures of the balconies and the beautiful gardens is relaxing. At each corner you will find some improvised band playing great music.
Santiago is a Caribbean as Cuba gets. It is the second largest city in Cuba, it has the hottest climate (I did find it truly scorching), and it is where even the most experienced traveller may fall for a scam. Yet, it has a vibrant cultural life, it is very musical, the architecture is beautiful, and the people interesting. There are many places to visit in Santiago; Parque CŽspedes is the heart of town, it is lively, musical, and all around it there are many places of interest including Calle Eredia and the Casa de la Trova, a spot to listen to traditional music that hosts famous artists such as Eliades Ochoa (famous thanks to the movie Buena Vista Social Club).
If you live in the myth of Ernesto Che Guevara as I do (and I'm not refering to the lousy t-shirts with his name and face on, but to his work, his ideals, his writings) you can't skip Santa Clara. This is the first city that the revolution forces freed from the control of Bautista's army in December 1958. It is not by chance that Aleida March (Guevara's wife) was born here. Santa Clara may not be as pretty as Trinidad, but it is lively and full of cultural (and less cultural!) events. Places to see in Santa Clara include the Monument of Ernesto Che Guevara, a pilgrimage for anybody visiting the city and whose statue was built in 1987 on the occasion of the 20th anniversary of Che Guevara's death.
The labirynthic city of Camagüey causes either a love or hate reaction. It is very unique and different from the rest of Cuban cities. Built in a medina style to confuse any possible enemy or invader (so much so that I could not find my way around even with a map). The city centre is a UNESCO World Heritage Site since 2008. There are many art parlours and lovely small alleys, beautiful squares, and pretty colonial buildings. The city is crowded and at times messy, but it is worth a visit.
Information credits for this page: Google, Wikipedia and Microsoft Bing. BlahFace does not vouch for the accuracy of the information presented.
Photographs may not be used without written permission.
Disclaimer: We may receive a commission for any products/services mentioned on this website.
Please support our Sponsors as it allows us to pay for the website and costs nothing to you.