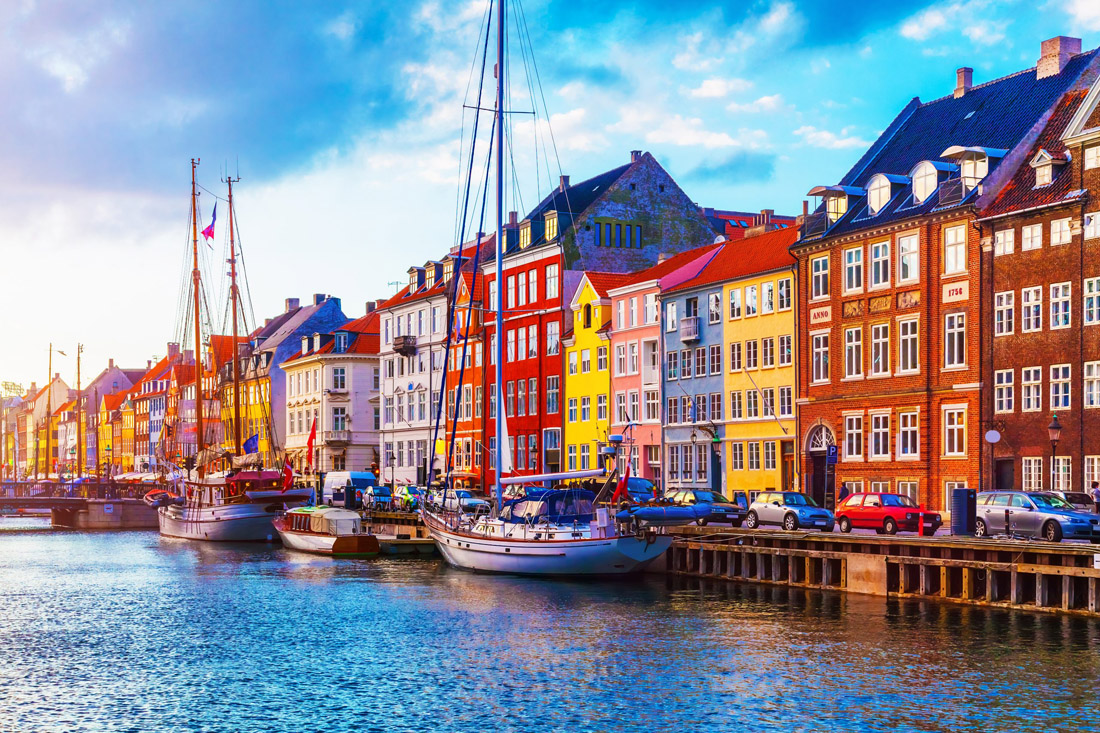 The capital of the country, Copenhagen is one of the most livable cities in the world. This is immediately apparent in the green spaces, pristine waterways, and well looked after harbor which is so clean you can swim in it! With a wide array of cultural attractions on offer, you can be exploring art collections or Viking history in royal palaces one minute and diving into the delights of Islamic art at a neoclassical mansion the next. A stylish place, fantastic Danish design is on show wherever you look; you can find wonderful examples of this in just about any bar, cafe or shop you visit, while its trendy residents will put you to shame with their effortlessly cool fashion.
Founded by the Vikings, the second-largest city in the country was fittingly named the European Capital of Culture in 2017, for the wealth of attractions that it has to show off. Architectural wonders abound in this lively city and there is a thriving arts and cultural scene, with lots of festivals and events taking place over the year.
With a healthy range of shopping options, lots of brilliant restaurants and some hip bars and cafes, Aarhus is welcoming more and more visitors to its streets every year. Picturesque to behold and easy to navigate, it is a great place to live. The sizeable student population makes it a vibrant city to explore.
Odense is the birthplace of Hans Christian Andersen, who lit up the world with his literary creations. As such, there are numerous museums, sculptures and attractions dedicated to his works in the city. Full of life, Odense has a number of great museums and art galleries to check out, as well as a fantastic zoo. With over a thousand years of history, there is an interesting village full of historic buildings for visitors who want to learn more about the city's past. Peaceful parks are sprinkled around the city and there are lots of lively bars and cafes on offer. From here, you can easily explore the rest of Funen – the third largest island in Denmark.
With its recently restored waterfront at the heart of the city, Aalborg is attempting to rejuvenate and breathe fresh life into the industrial parts of the city that have long lain neglected. Straddling the Limfjord – the narrow strait of water that cuts Jutland in two – the waterfront is much improved and is now a nice place to stroll along.
Lying where the Baltic joins the North Sea, Skagen's busy harbor is framed on either side by expansive beaches. In summer, droves of locals and tourists head here for its holiday atmosphere. Lying on the northern tip of Jutland, the city has some pretty neighborhoods which are worth exploring.
Lying on the Oresund strait and facing Helsingborg, Helsingor is a gateway to Sweden. Many Swedes descend on the city to buy cheap alcohol. An affluent place, Helsingor became rich from taxing trade passing through Oresund – this funded the fantastic medieval buildings which we see today.
Information credits for this page: Google, Wikipedia and Microsoft Bing. BlahFace does not vouch for the accuracy of the information presented.
Photographs may not be used without written permission.
Disclaimer: We may receive a commission for any products/services mentioned on this website.
Please support our Sponsors as it allows us to pay for the website and costs nothing to you.