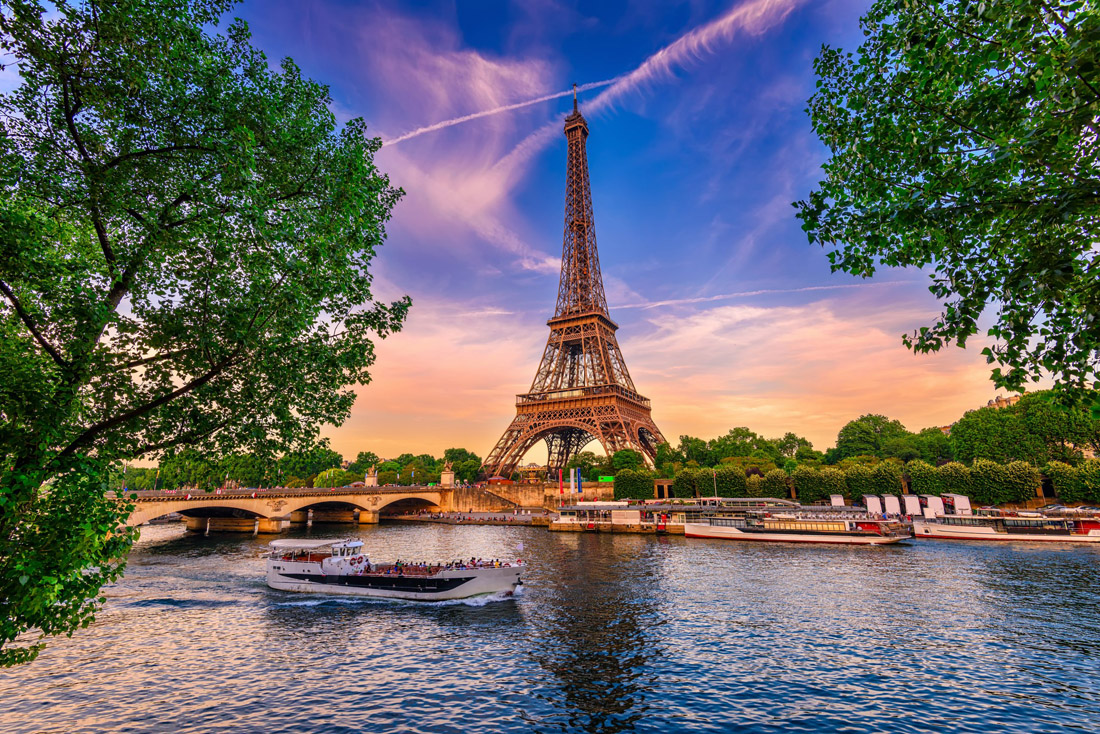 With some of the most recognizable buildings and monuments in the world, Paris is a must-see city to visit, with a never-ending array of things to see and do. Situated on the banks of La Seine, the elegant and stylish capital of France is a romantic place, with lovely boulevards, beautiful buildings, and sights like the Eiffel Tower and gleaming Sacre-Coeur rising towards the heavens. Renowned for its cuisine, Paris has a plethora of restaurants to choose from – watch out though, it is very easy to spend a lot of money in a short amount of time.
Located on the French Riviera, or Cote d´Azur, as it is known in French, Nice is constantly bathed in sunshine. As the fifth largest city in France, it has a vibrant mix of cultures. Because it is a port city, Nice has a gritty side to it, which contrasts with its Italian inspired architecture and the medieval streets of the old town. Walking along the famous Promenade des Anglais and gazing out over the turquoise waters is simply heavenly. For a great view of the city and the shimmering Mediterranean Sea below, head to the Colline du Chateau. A charming place to spend some time, Nice has something for everyone, as it combines city life with a beautiful setting.
Straddling the banks of the Garonne River, Bordeaux is a large city with a lot to offer. Its impressive old town is delightful to walk around, and the architecture on show is ravishing. Surrounding Place de la Bourse, you can find 18th century mansions rubbing shoulders with decadent palaces, as well as a number of great art museums. With a modern feel to it, Bordeaux has a thriving university community. In recent years, a number of vintage shops have sprung up. For a great walk, head to Les Quais and gaze out over the waters of the river – at night, the view of the city lights from the Napoleonic-era Pont de Pierre is magical. Home to some of the best wines in the world, make sure to give them a taste before you head off.
Lyon, the third largest city in the country, is located where the Rhone and Saone Rivers join. Its strategic location has enabled it to attract merchants and industries to the city ever since it was founded by the Romans in 43 BC. An orderly and sophisticated place, renaissance buildings dot its streets. Lyon seamlessly mixes the new with the old, with a rich cultural heritage that encompasses gastronomic delights and fine architecture. Lyon Cathedral is one of the most impressive sights, and the old town is lovely to walk around. Make sure to try some of the sumptuous cuisine before you continue on your way.
France´s second city is a diverse melting pot of people and cultures that all call Marseille their home. Traditionally thought of as grimy and a bit run-down, this bustling port city has undergone something of a renaissance in recent years, though its primary attractions remain the same. The old harbor, for instance, is a magical setting from which to watch fishermen returning to shore with their catch. It is the heart of Marseille, and you´ll really get a feel for the city here. The oldest neighborhood, Le Panier, is definitely worth checking out, as is the stunning Notre Dame de Major cathedral that overlooks the sea.
Nicknamed the ´White City,´ due to its limestone edifices that are so beautifully illuminated at night, La Rochelle is a charming place to visit. Once an important seaport in centuries gone by, the old port, historic center and picturesque waterfront are reason enough to visit La Rochelle. With a huge marina at Port des Minimes, and sandy beaches in the vicinity, it´s a nice laidback place to spend some time.
Information credits for this page: Google, Wikipedia and Microsoft Bing. BlahFace does not vouch for the accuracy of the information presented.
Photographs may not be used without written permission.
Disclaimer: We may receive a commission for any products/services mentioned on this website.
Please support our Sponsors as it allows us to pay for the website and costs nothing to you.