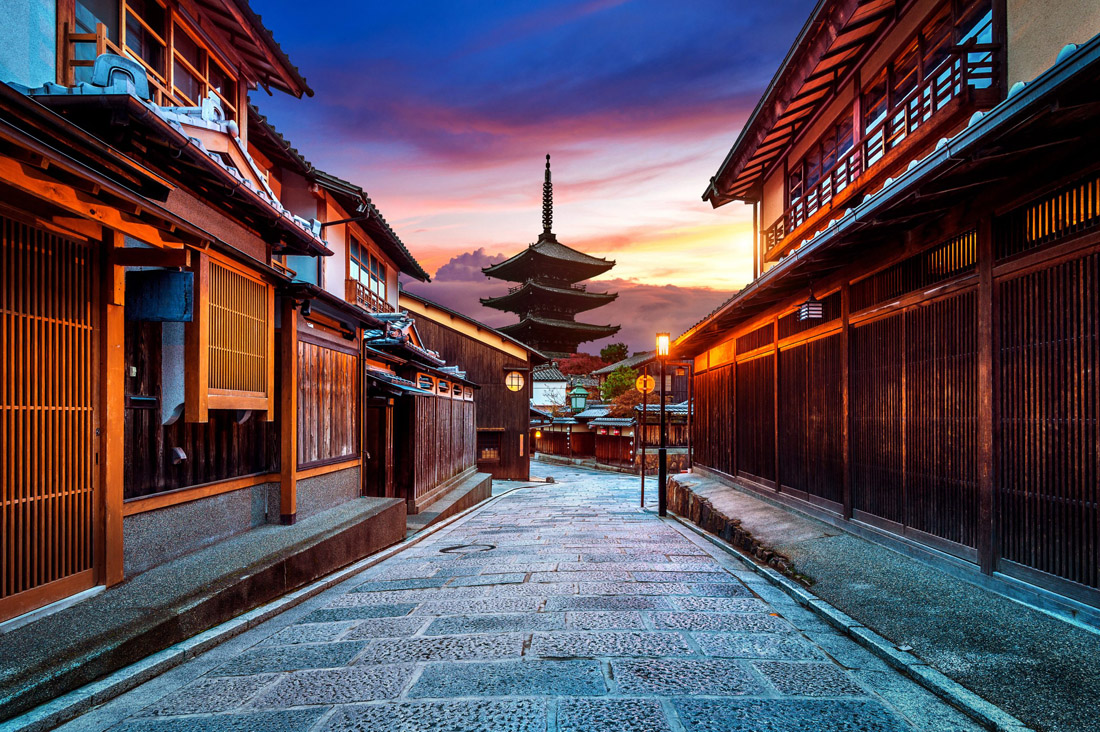 Lying at the heart of the most populated place in the world, Tokyo has just under forty million people living within its metropolis. Consequently, there really is something for everyone to enjoy. Appearing as if out of a sci-fi film, the city´s dazzling array of neon-lit skyscrapers are mesmerizing to behold – at night, they look even more impressive. While Tokyo is definitely a modern, thriving city that sells a unique pop culture and fashion sense to the world, remnants of the historic city still remain. You can peacefully wander down cobbled alleys and find old-style atmospheric bars and food stands.
The former capital of Japan drips with history and is reputed to be the nation´s most beautiful city. Upon arriving, however, many visitors are surprised to see Kyoto´s urban sprawl, which hides away its fantastic historical sites and rich cultural heritage. With over two thousand temples and shrines, as well as numerous Zen gardens, winding cobbled alleys and traditional teahouses, Kyoto is both the spiritual and cultural capital of Japan. Home to a plethora of cool bars, atmospheric cafes and world-class restaurants, the city also has some fantastic palaces and villas for visitors to gaze upon. One of the best places to see the romantic cherry blossom trees, Kyoto is an amazing mix of modern and traditional influences.
Lying in western Honshu, Hiroshima´s history will forever be linked to the atomic bomb which flattened the city on August 6th, 1945. Almost completely destroyed, Hiroshima has remarkably been reconstructed and is now a bustling modern city, full of life. While many visitors come to pay their respects at the Peace Memorial Park and Museum and visit the chilling A-Bomb Dome ruins, the city has many other sights for visitors to enjoy. It also serves as a gateway to some beautiful nearby islands including famous Miyajima (shrine island).
With beautiful temples, ancient shrines and a range of fantastic museums, this charming city lying on the Sea of Japan is not to be missed. Wonderfully preserved, its ancient neighborhoods are lovely to wander around, with the old geisha and samurai districts being particularly delightful. In fact, Kanazawa rivals Kyoto in the number of historical and cultural attractions that it has on show.
Although seldom visited by westerners, Japanese tourists flock to this city.
Considered to be the birthplace of Japanese civilization, this ancient former capital has a wealth of historic sites for visitors to enjoy. Easily explored on foot, the city´s undoubted highlight is the impressive Great Buddha statue, located in the lovely Todai-ji temple. Other temples delightfully showcase the best of Japanese art and architecture, while the surrounding hills – which add to the picturesque nature of Nara – have yet more shrines and temples worth visiting.
Although the endless concrete buildings do not make Osaka a pretty place by any means, the profusion of neon lights certainly adds color and life to the city. A bustling metropolis with a lovely river meandering through its heart, Osaka is a fun place to visit with a lively local arts and music scene. Renowned for its fantastic culinary scene and love of food, here you can dine in excellent restaurants or pick up a wide variety of great street food.
Information credits for this page: Google, Wikipedia and Microsoft Bing. BlahFace does not vouch for the accuracy of the information presented.
Photographs may not be used without written permission.
Disclaimer: We may receive a commission for any products/services mentioned on this website.
Please support our Sponsors as it allows us to pay for the website and costs nothing to you.