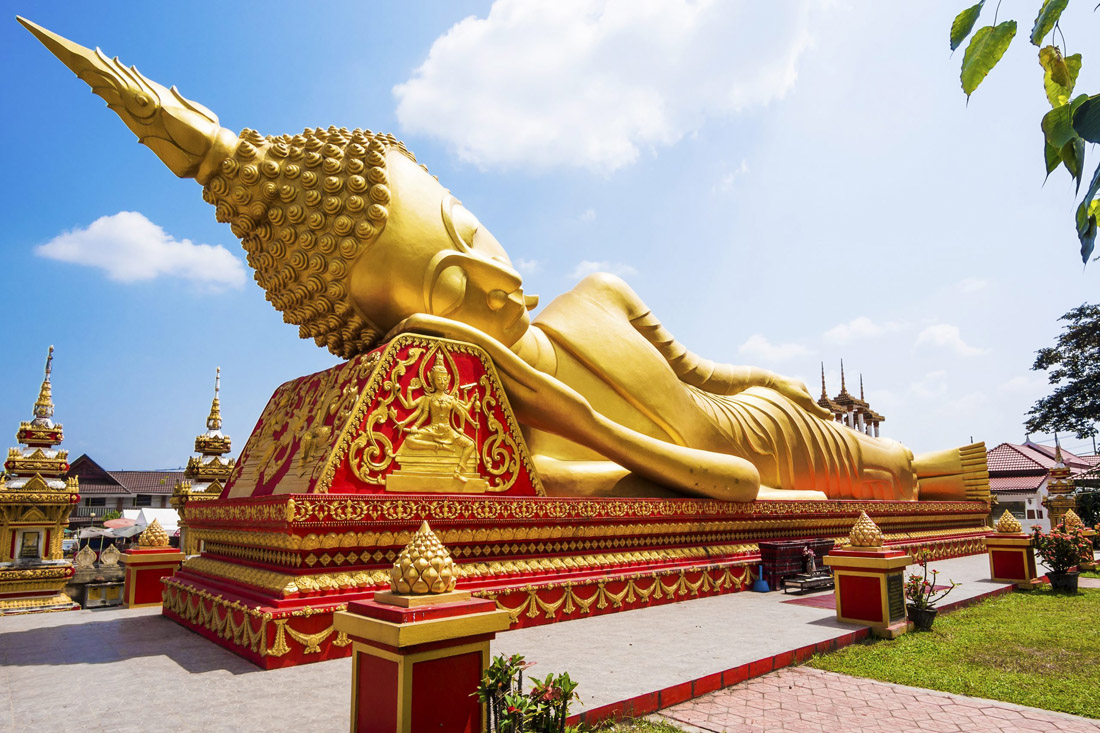 Savannakhet ('Golden Land') is the capital of Lao's most southerly province. This leisurely and languid city sits on the Mekong River, just 6km from the border with Thailand. Once a thriving French trading outpost, you can still see many vintage colonial buildings in the downtown area. Wandering the old historical quarter and marvelling at the decaying early-20th-century buildings is a must. You can either do this by foot or bicycle. Other sites to explore in the city include Xayaphoum Temple, Friendship Bridge (great for sunsets), Dinosaur Museum, and St Teresa's Church. If you're feeling active, head northeast out of town to the centuries-old That Ing Hang, a scared stupa that is supposedly the burial site for one of Buddha's bones. Also in a northeast direction is Dong Natad, a national protected forest area offering great trekking opportunities.
A small town on the banks of the Nam Ou River, Nong Kiaw boasts a gorgeous backdrop of imposing limestone mountains, picturesque river views, and genuine local flavour. This picturesque "off-the-grid" town is located on the banks of the serene Ou River, close to jagged limestone. While it's true that most people use this small town as a stop-over en route to Van Vieng and Muang Ngoi, it's worth a visit in its own right. For boating, bamboo rafting, kayaking, and spelunking, this is the place to be. The lush jungle setting affords a wealth of opportunity to convene with nature in caves and waterways. Of course, being Laos, there is also zip-lining, mountain bike riding, trekking, and waterfall swimming to be found. To get from Nong Khiaw to Luang Prabang is a breeze, it takes only 3-4hrs by bus or 6-7 hours by boat to cover the 140km.
Long regarded as a sleepy backwater, Vientiane has come a long way in the last two decades. In many ways, this charming city on a wide bend of the Mekong is more akin to a loose collection of villages than a thriving capital city. Like many other cities in Laos, it mixes French-colonial architecture with Buddhist temples, dotted around the city in every boulevard and tree-line street. The most notable ones are the 16th-century Pha That Luang, best viewed at sundown with its golden surface glistens; Wat Si Saket, the city's oldest temple which features thousands of Buddha images; and Wat Si Muang, the city's most popular with worshippers. Aside from temples, the socialist-era Lao National Museum and museum of religious art, housed in Ho Phra Keo, a former Buddhist shrine dating back to 156,5 are also worth a visit. Further afield there are a few places worth checking out, including Xieng Khuan (Buddha Park), home to over 200 Hindu and Buddhist statues, and Ang Nam Ngum Reservoir, which offers numerous hiking, camping and boating opportunities. *To get from Vientiane to Savannakhet you're going to need to travel a fair distance – 460km. You can travel there in 1 hour by flying or 8-10 hours by road.
The charming city of Luang Prabang, inhabited for thousands of years and once the capital of Laos (up until 1975), lies at the confluence of the Mekong and Nam Khan rivers and is still considered to be the country's, spiritual heart. It's an eclectic mix of Buddhist temples, Indochina architecture and food, and a magical nature. 
You'll want to spend time immersing yourself in the old town of Luang Prabang, a UNESCO protected site, housing 33 gilded wats (temples). Not to be missed is the striking Wat Xieng Thong, Royal Palace, and Phu Si (great sunset views).
We start our journey in the far north, in the province of Luang Namtha, and the city of the same name (the largest in northwest Laos). Surround by Myanmar, China, and Oudomxay and Bokeo provinces. A whopping 85% of this region is mountainous and it's more commonly known as the 'Golden Triangle.
That is basically why people come here, to take advantage of the resplendent countryside, studded with ethnic villages and waterfalls. There is the best place in the country for hiking, mountain bike riding, motorbike touring, and zip-lining. And, like many places in Laos, also offers great boating and caving adventures to boot.
The reputation of riverside Vang Vieng precedes it. Surrounded by wild fields in Central Laos, Vang Vieng is a small tourist town popular with party-seeking young backpackers.
The town is home to all sorts of accommodation, from hostels to guest houses, as well as plenty of bars and restaurants that are open until late during the main tourist season. There are so many day trips to enjoy from Vang Vieng that can be booked at any of the travel kiosks in town, such as the trip to the aptly-named Blue Lagoon. One of the most popular things to do in Vang Vieng is the infamous river tubing, where you can float down the river, stopping at various riverside bars along the way. 
Information credits for this page: Google, Wikipedia and Microsoft Bing. BlahFace does not vouch for the accuracy of the information presented.
Photographs may not be used without written permission.
Disclaimer: We may receive a commission for any products/services mentioned on this website.
Please support our Sponsors as it allows us to pay for the website and costs nothing to you.