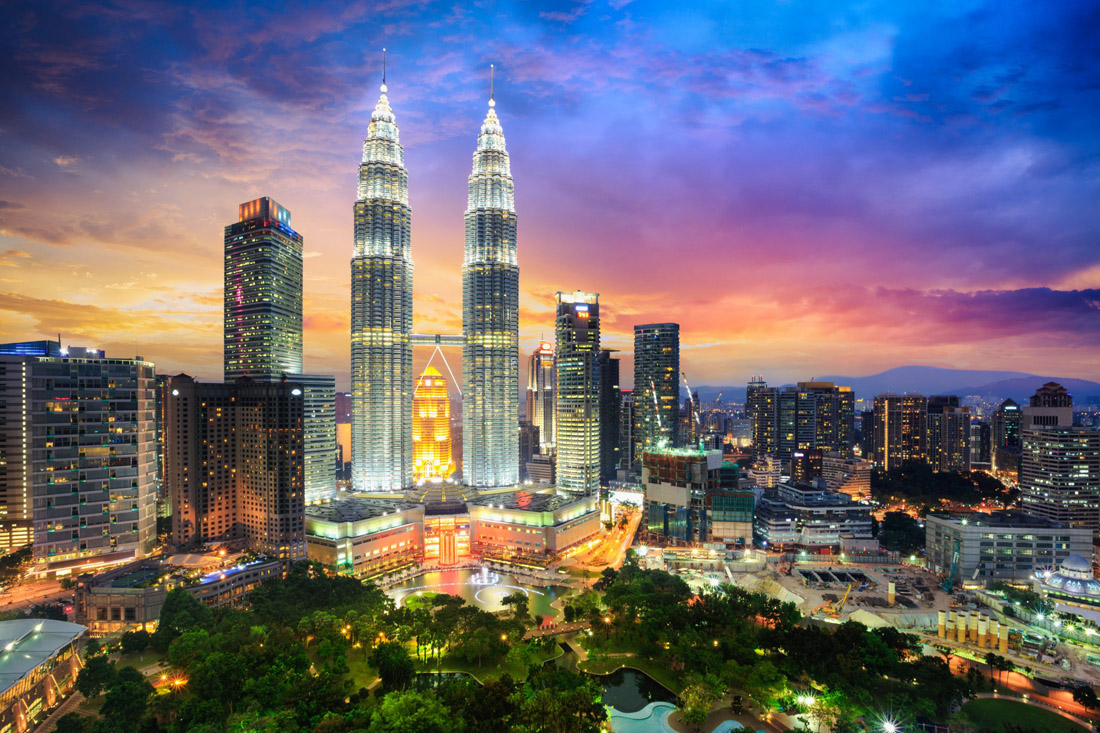 Despite being the the largest city in Borneo, Kuching is a laid-back, relaxing place to visit, with a lot to see and do. Lying on the banks of the Sarawak River, the city has a charming waterfront promenade and many interesting museums. There are also numerous restaurants, bars and cafes that highlight the multicultural side of Kuching.
Skyscrapers rise as if from amidst the jungle, and it is this, along with its colonial architecture, that makes for such a picturesque setting. A great base for exploring the rest of the island and the nearby national parks, in Kuching you can organize treks into the jungle as well as trips along the coast.
Although Kota Kinabalu may not initially appear very enticing due to its sprawling concrete buildings, once you get to know it, you´ll soon become enamored with all that it has to offer. Located in Borneo, the city looks out over the South China Sea and has a vibrant waterfront and some incredible sunsets. With malls, markets, fantastic cuisine, and a vibrant arts and music scene, Kota Kinabalu has everything that you could want in a city. With so many sights lying nearby, it´s definitely worth checking out. From here you can hike Mount Kinabalu, go scuba diving off the coast, or visit the spectacular islands of the Tunku Abdul Rahman National Park.
With so much to see and do, Malaysia´s massive multicultural metropolitan capital really does have something for everyone. Appearing to be almost endless, the city stretches away to the horizon, with domineering skyscrapers and the Petronas Towers reaching towards the heavens. With its infectious energy and plethora of attractions, wandering around its temples, mosques, shopping malls and busy markets is intoxicating. Because it is home to a diverse population, Kuala Lumpur´s unique cultural heritage really does shine through. Colonial architecture is on show around Merdeka Square, while fantastic restaurants and cafes are spread throughout other neighborhoods such as Little India and Chinatown. Old mixes with new, as this rapidly expanding city continues to grow. While modern developments spring up along the riverbanks, traditional Malay villages in the heart of the city – such as Kampong Bharu – still survive.
The capital of Perak state, Ipoh lies between Kuala Lumpur and the Thai border, and is a lovely place to stop by. Its old town is pleasant to stroll around, with lots of little shops and cafes dotting its tiny streets. The new part of town has many great restaurants serving up traditional local dishes. A plethora of impressive temples catering to all religions lie within the city, with the Perak Tong cave temple being the highlight. A nice place to get away from the bustle of larger cities, Ipoh is also a gateway to the nearby Cameron Highlands.
Lying on the west coast of the Malaysian peninsula, Malacca (Melaka in Malay) is a unique place to visit due to the British, Dutch and Portuguese all having ruled here at one point. As such, there is a wealth of lovely colonial architecture to explore, with each nation having left its mark in terms of the buildings left behind and the cultural impact that they had.
With a lively night market and a wide range of different cuisines on offer, this charming city is understandably a popular tourist destination in Malaysia.
An eclectic mix of cultures greet you as you wander around George Town´s chaotic streets – this is what makes it so captivating to visit. An attractive place, beautiful mosques and temples can be found scattered about, while skyscrapers and shopping malls compete for space alongside the old colonial architecture and local Malay buildings. Its narrow streets that take you past little old shrines, bustling cafes and lively bars are fun to get lost in, and there are plenty of great street art murals. With delicious cuisine that is a blend of the various cultural influences readily available, the second largest city in the country is well worth a visit.
Information credits for this page: Google, Wikipedia and Microsoft Bing. BlahFace does not vouch for the accuracy of the information presented.
Photographs may not be used without written permission.
Disclaimer: We may receive a commission for any products/services mentioned on this website.
Please support our Sponsors as it allows us to pay for the website and costs nothing to you.