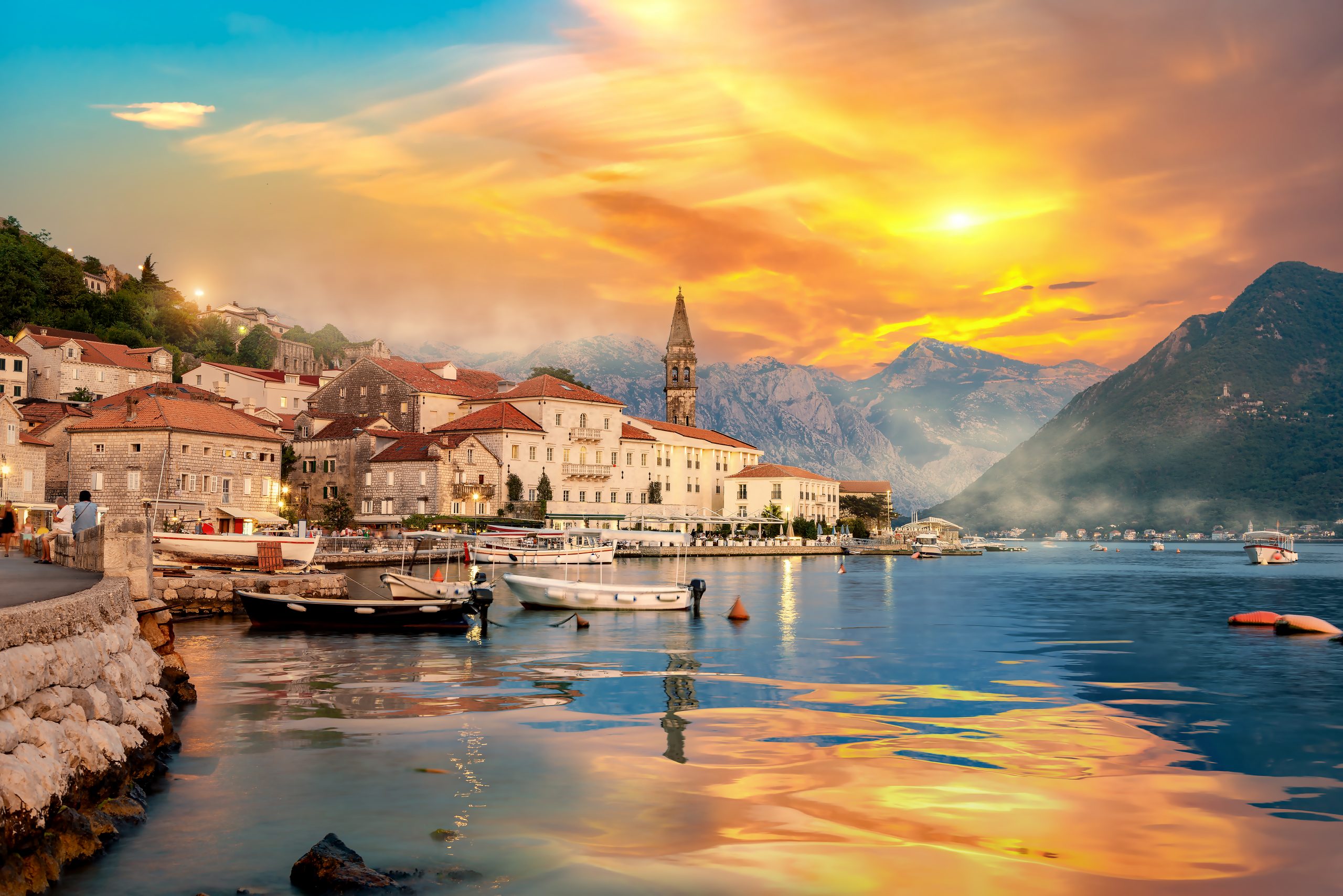 Besides being the capital of Montenegro, Podgorica is also the country's largest city, having a population of some 200,000 people. The city is situated in central Montenegro, in the scarce Montenegrin lowlands between Dinaric Alps and Lake Scutari. The Podgorica area has been continuously inhabited since the Illyrian and Roman eras, with settlement on the site of today's Podgorica being firmly established during Ottoman Empire rule. Podgorica was reincorporated in Montenegro in 1878, when the city started to take a more European shape. Nazi and Allied bombings during World War II destroyed much of the historical Ottoman and Montenegro-era Podgorica architecture, and city was reborn as the capital of Montenegro in Socialist Yugoslavia (SFRY). The city was then rebuilt and expanded in a manner typical of Eastern bloc countries, so it is mostly a modern planned city, and by no means a principal sightseeing destination.
Tivat is a resoundingly pretty town at the foot of Mount Vrmac, and is a popular spot for hikers and mountaineers. With its peaceful coastline lined with palm trees, Tivat comes alive in the summer when many people flock from inland to enjoy the sun-drenched weather and summery feel. With its own stretch of unspoiled sandy beach, Tivat is a Montenegrin paradise, perfect for topping up a tan while taking in the blissful mountainous surroundings. Visitors can take a stroll in the evening to watch a memorable sunset over the water, or to look at the yachts that crowd the town's port during the summer months. Water-sports fans can enjoy the wonderful selection offered here. There's everything from kayaking to wake boarding and trimaran sailing. A number of first-class restaurants and luxury hotels can be found in town and a stay in Tivat promises to be fun-filled, entertaining and mercifully relaxing.
Budva is situated on the Adriatic coastline with a flawless stretch of sandy beach overlooking the water. This makes it an ideal location for sun-seekers looking to spend a few hours reclining and enjoying the mild Montenegrin weather. For history lovers, Budva is also home to an ancient old city which has been remarkably well-preserved since the Middle Ages. Historical sources date the town back to the fifth century BC which allows visitors to enjoy a plethora of ancient churches and stone buildings. There are also winding cobbled lanes which lead to the town's wonderful restaurants, cafes, shops and attractions, including its renowned Maritime museum. With its typical Montenegrin red-roofed buildings and stone walls, Budva is a picture-perfect place in which to spend a day exploring. For those looking for a more lively Montenegrin experience, come during the summer months. This is when Budva plays host to the Sea Dance Festival, an exciting international music festival taking place on Jaz Beach.
Up north, close to the Croatian border, sits Herceg Novi, a town at the entrance of the Bay of Kotor that has a history much like the other towns and cities in Montenegro. Herceg Novi translates to 'New Castle' and was founded in the 15th century. It began as a tourist hot spot during the Yugoslav times but today the town is much quieter. It's a fun stop during the summer when it's the festival season as you make your way to or from Dubrovnik in Croatia or Trebijne in Bosnia & Hercegovina. The town is most notable for Kula Fortress, built when the Ottoman Empire was ruling, the Sea Fortress which was built by the Bosnians and the Spanish Fortress. On top of these impressive buildings, there are also beaches and harbours.
Cetinje currently holds the honorary title of the capital of Montenegro as this city is a significant place in Montenegro for culture, religion and national identity. It was once the actual capital of Montenegro (now it's Podgorica) when it was still an independent country before WWI, and where many diplomatic relations were conducted. Today many of the embassies have been turned into museums and is where the prime minister currently resides. As for the best destinations in Montenegro for history lovers, Cetinje is a must-visit.
A charming coastal town, Kotor has dramatic sea and mountain scenery for its visitors to marvel at. There's also a tranquil bay hugged by the limestone cliffs of Lovćen and Orjen. As a UNESCO world heritage site, the region of Kotor promises to provide unforgettable views as well as an enthralling history and culture. First conquered by the Greeks around the fourth-seventh century BC, the town was once a fortified village surrounded by walls of up to 20 meters. This was to protect the Byzantine emperor Justinian the Great. Through the ages the town has been under Venetian, Ottoman and Napoleonic rule. Today, visitors can wander through quaint narrow streets and alleyways and visit its main square, the Piazza of the Arms, as well as the nearby gate to the city. Kotor is also home to rustic restaurants and bars, establishments serving traditional Montenegrin fare as well as international dishes.
Information credits for this page: Google, Wikipedia and Microsoft Bing. BlahFace does not vouch for the accuracy of the information presented.
Photographs may not be used without written permission.
Disclaimer: We may receive a commission for any products/services mentioned on this website.
Please support our Sponsors as it allows us to pay for the website and costs nothing to you.