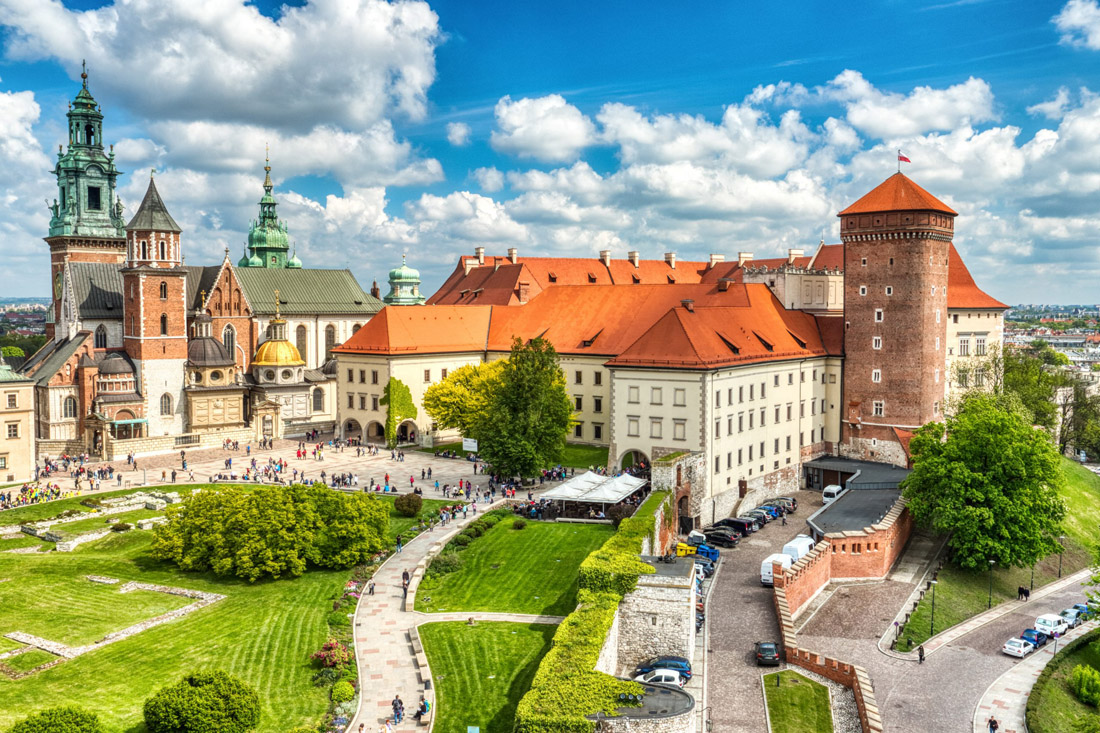 Almost completely destroyed in the Second World War, the city's old town has been painstakingly restored to some of its former glory. A mishmash of different architectural styles, Gothic churches, fantastic museums and modern edifices can be found among the drab grey concrete buildings of the communist era. With some lovely parks and diverse neighborhoods to wander around, Warsaw has many different sides to it. The nation's capital is a fun and interesting place to explore, with a plethora of great, cheap restaurants, bars and clubs for visitors and locals alike to indulge at. For a great view of Warsaw, head to the top of the domineering Palace of Culture and Science that towers over the tiny buildings below.
An atmospheric place to visit, Krakow's gorgeous Old Town is mesmerizing – delightful churches and old buildings line its picturesque squares. In fact, it has the biggest market square in Europe, in the shape of Rynek Glowny. A popular tourist destination, the former royal capital has lots to see and do, with Wawel Castle being just one of the highlights. Myriad restaurants and bars can be found throughout the city. There are endless options for great nightlife here if you get tired of exploring its historical sites and fantastic museums. The former Jewish quarter with all its synagogues is somber to walk around, and many tourists visit Krakow to take a trip to Auschwitz – a haunting yet important experience.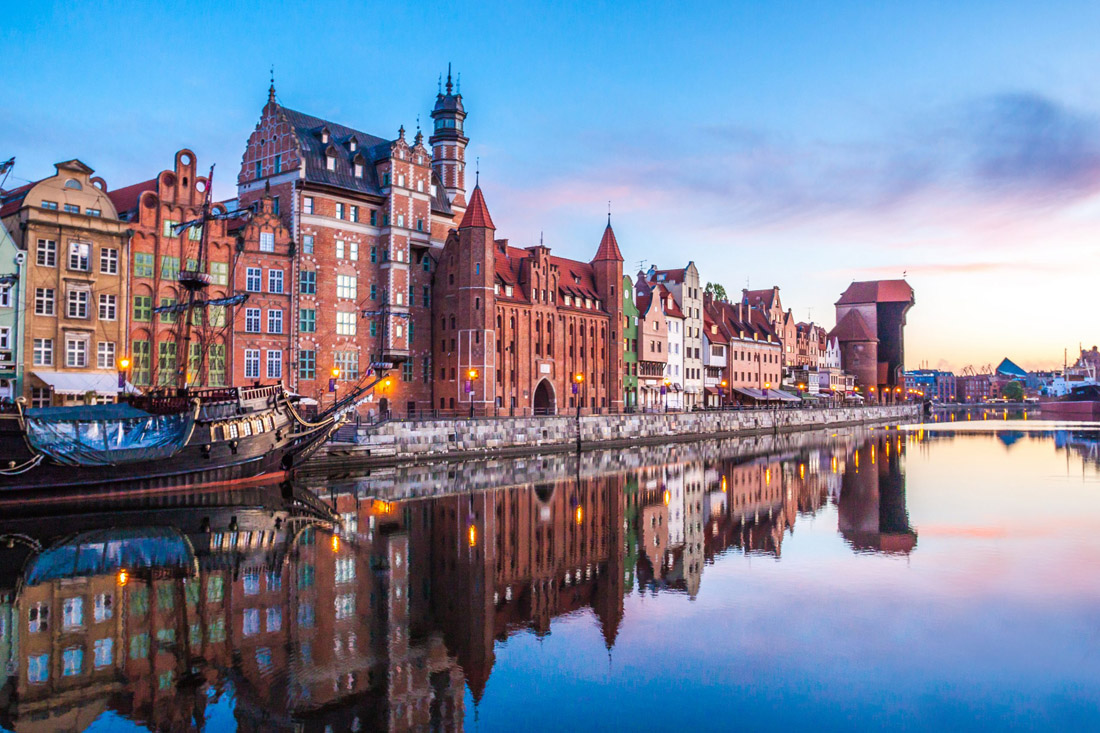 Unlike any other city in Poland, Gdansk's tumultuous history has resulted in a unique identity and look. Due to its large port, wealthy merchants coming here to trade left their mark, while its strategic location meant it was once fought over by Teutonic Prussia and Poland. Consequently, there are a lot of diverse architectural styles on show, and the post-WWII reconstruction of Gdansk only added to this. A popular destination, its cobbled streets are lined with delightful old churches and elegant buildings, while interesting museums lie side by side with shops, restaurants and cafes. You can kick back and relax at some of the lovely beer gardens, or take a boat cruise from the port. From here, you can easily explore other places along the Baltic coast.
Located on the Vistula, this lovely city is an absolute delight to wander around – its peaceful streets seem a world away from more popular tourist destinations in Poland. A walled city, Torun's Gothic old town has some fantastic architecture for visitors to view. Unlike many cities in Poland, it thankfully emerged relatively unscathed from WWII. Tucked away amidst its winding streets you'll find lovely atmospheric bars and restaurants, as well sights and images related to two of Torun's claims to fame – Nicolaus Copernicus, who was born here, and the famous gingerbread that originated from the city.
Buzzing with energy and a youthful feel, Poznan is a fun city to hang out in. The capital of Wielkopolska, its old town has lots of great historical sites to visit, as well as some fantastic museums. The city's large student population means that its restaurants, bars and clubs are full of life, while the trade fairs that are hosted in Poznan attract a different clientele entirely. From here, there are great transport links from which you can explore the surrounding region.
A charming place to visit, Wroclaw's diverse influences have resulted in a unique look and culture to the city. With Austria, Bohemia and Prussia all having had an impact on the city's development, the architecture reflects Wroclaw's past, as evidenced by the spectacular Rynek market square. Located on the Odra River, Wroclaw has a plethora of bridges and lovely parks lining its banks, which make it a picturesque place to relax – the delightful Cathedral Island is definitely worth stopping by. The fourth-largest city in the country has a lively arts and culture scene, with lots of festivals and events taking place here throughout the year. 
Information credits for this page: Google, Wikipedia and Microsoft Bing. BlahFace does not vouch for the accuracy of the information presented.
Photographs may not be used without written permission.
Disclaimer: We may receive a commission for any products/services mentioned on this website.
Please support our Sponsors as it allows us to pay for the website and costs nothing to you.